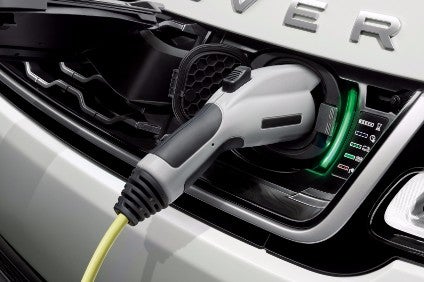 Our analysis of competition heating up in the global EV battery market was, unsurprisingly, the most popular item on just-auto this past week. Governments in Europe and Asia this year have announced ambitious medium- and long-term sales targets and quotas for zero-emission vehicles, as they look to move away from polluting, fossil-fuel burning vehicles. Electric vehicles (EVs) are seen as the main solution, at least for the next 20 years, and vehicle manufacturers worldwide have been busy adjusting their global production plans as they look to position themselves for the anticipated "electrification" revolution.
Also well read: Ford's new CEO laying out his strategy for the company. In a speech aimed squarely at investors, Jim Hackett laid out a plan that delivers cost cuts as well as a tilt to new business opportunities and emerging technologies. The aggressive cost cuts – including US$10bn in materials over five years – are designed to make room to fund the development of electric and autonomous vehicles. They are also designed to appeal to investors who were unhappy with Ford's depressed share price and warnings of lower profits under Hackett's predecessor Mark Fields.
As an electrified car nut, I was delighted to see Tata Motors' Jaguar Land Rover get cracking with its EV line in the form of a new PHEV variant of the Range Rover Sport. It has revamped the model line for 2018 with new English made Ingenium four cylinder, V6 and V8 petrol and diesel engines along with that new P400e plug-in hybrid electric version. The new range is topped by a flagship 575hp SVR variant which can sprint to 60mph in 4.3 seconds.
Staying with electrification, we heard from Tesla which revealed third quarter sales and production numbers which showed a low number on the uber-hyped Model 3 output, although it is early in the schedule for the new high volume model. Tesla said just 260 Model 3s were made in the third quarter and it said that production was "less than anticipated due to production bottlenecks". It also said that while the "vast majority of manufacturing subsystems at both our California car plant and our Nevada Gigafactory are able to operate at high rate, a handful have taken longer to activate than expected". However, it said that "there are no fundamental issues with the Model 3 production or supply chain" and that Tesla understands what needs to be fixed and is "confident of addressing the manufacturing bottleneck issues in the near-term". Analysts came to the automaker's defence with caution it was still early days in the production schedule for the new Model 3 and that Tesla would be working hard to ensure that everything is working correctly before volume is ramped up. The company experienced manufacturing process and supply issues on the Model X that meant it undershot volume targets initially. Model 3 is a critical car so they just gotta gettit right.
Still with EVs and we heard about those from GM, too, which plans to launch two new electric vehicles in the next 18 months 'based off learnings from the Chevrolet Bolt EV'. They will be the first of at least 20 new all electric vehicles the company says it will launch by 2023. "General Motors believes in an all-electric future," said Mark Reuss, GM's head of product development, purchasing and supply chain. "Although that future won't happen overnight, GM is committed to driving increased usage and acceptance of electric vehicles through no-compromise solutions that meet our customers' needs." Still, with GM Europe's Vauxhall and Opel now in PSA Group hands, I wonder if we'll see any of that this side of the pond.
Some more analysis, this time looking at Changan architecture. As we note: the parent company has been trading for 155 years, so Changan knows a thing or two about being successful in business. The automotive division has this year fallen prey to the ongoing surge in sales by Geely's Emgrand brand in China, recently losing its fifth place in that market. However, having sold 662,620 passenger vehicles so far in 2017, it is far from failing, especially as Changan remains ahead of the Nissan, Baojun, Haval and Ford brands.
Nissan is facing a huge recall in Japan after it was discovered unqualified workers were inspecting cars and that led to a little soul-searching at other automakers. Meanwhile, rival Toyota pulled the plug on manufacturing in Australia, a little ironic as the country was the first outside Japan to assemble Toyota cars, way back in 1963.
Have a nice weekend.
Graeme Roberts, Deputy Editor, just-auto.com