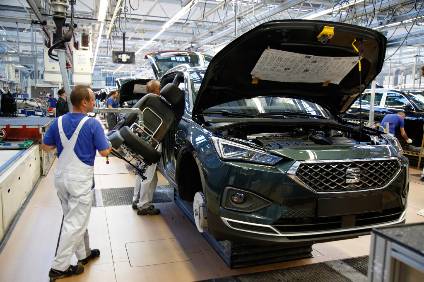 Volkswagen is in for a bumpy ride as it tries to return to normality in the wake of the COVID-19 outbreak. It had begun restarting its Wolfsburg plant – the world's largest auto manufacturing facility – from 27 April with added precautions to protect its nearly 8,000 staff. However, it has now been forced to pause production of some key models in response to flagging demand for new vehicles in Europe where many are still sheltering to limit the spread of COVID-19.
GlobalData's research reveals that demand for new light vehicles in Europe is predicted to have sunk by 76.2% in April 2020 compared with the same month in 2019. Adding to VW's woes is the fact that demand in the region is expected to take a long time to recover to pre-COVID levels – demand in May is expected to be 66.9% down and 53% down in June compared with the same months in 2019. In fact, GlobalData's figures suggest that demand in Europe won't recover to pre-COVID levels until September – casting a long shadow over the hopes of a swift European recovery.
VW will have to burn even more cash to keep its production network running as it rattles with excess capacity.
This makes it likely that VW will have to burn even more cash to keep its production network running as it rattles with excess capacity. What's more, the lines hit by the halt in production are responsible for significant volume models including the seventh and eighth-generation Golf hatchback and the popular Tiguan and SEAT Tarraco SUVs.
This should be a cause for concern for all automakers in Europe because it demonstrates that, while governments are keen to get economies going again, cautious customers are not beating down dealership doors to buy the latest models.
While Europe's outlook is bleak, there are glimmers of hope from China's market which is showing stronger signs of recovery. Chinese vehicle demand sank by 87% and 49.7% in February and March respectively compared with 2019 but, by April, demand had actually grown by 4.1%. Nevertheless, European automakers should brace for stormy seas over the next few months because their increased sales in China are unlikely to make up for the significant drop in revenue in their home markets. Additionally, a risk still remains that a second wave of COVID-19 infections caused by premature lifting of lockdown restrictions could cause even more economic damage in Europe, further denting vehicle demand.
See also: VW suspends some production in Europe