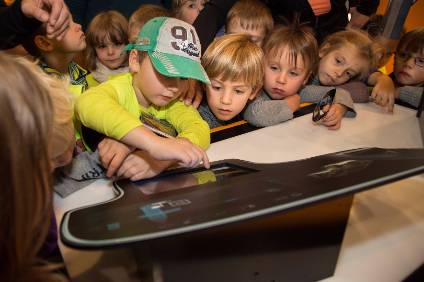 Frankfurt, Paris, Geneva, Tokyo and Detroit – the big five, must-attend car shows. Not anymore, the world order has changed.
China has been the big game changer, simply a market so vast it can't be ignored and watch out for India coming up on the rails.
This year's Frankfurt IAA, by the far the hardest on the legs because of its sheerness, was notable for the absentees including Nissan, Peugeot, Fiat, Volvo, Jeep, Mitsubishi and Infiniti.
So, are the glamour shows losing their glitz? Judging by stands erected by those who did attend, not really. But there is something of a reality check going on.
It's an expensive business and the show circus is expanding. Not just in China but North America for example where a case can be made for attending the Detroit, Los Angeles, New York and even Chicago auto shows.
Of those, Detroit – Motor City itself – is in the biggest danger of falling off the roster. Car companies say they simply do not sell cars at the show which they do at LA and New York.
It's been a couple of years or more since Volvo announced it would attend just three major shows – Geneva, Los Angeles and Beijing/Shanghai. As far as the Swedish carmaker is concerned, that covers all its major market bases.
And the cost of attending shows? Car companies are coy about revealing how much they spend, but it runs into millions and millions of dollars. Vast stands are erected, taken down and transported around the globe and then they have to be staffed for a week or more racking up hotels, flights and entertaining the ever increasing army of media attendees.
There was a feeling among the carmakers at Frankfurt that they have to be a little more careful how they spend their money and target events where they feel their presence is most worthwhile. Jaguar Land Rover, for example, has given up on Detroit in favour of LA and New York.
Falling visitor numbers are also a concern – Paris attendance last year fell 14% while Detroit recorded 9,000 fewer people through its doors this year. Then there are the increasingly popular technology events such as the Consumer Electronics Show (CES) in Las Vegas and Mobile World Congress in Barcelona.
As one car company executive pointed out at Frankfurt, the "buzz" of the show reveals is a thing of the past. Thanks to the internet and burgeoning news and car websites, new models have been seen online well in advance.
However, all is not lost. For BMW, Daimler, Volkswagen, Ford and Opel, home turf in Frankfurt is still a must attend event along with other companies with German-based European headquarters.
For some of the smaller or emerging brands, motor shows are an important showcase for the products and a chance to "be seen".
Kia, perhaps the fastest growing brand in Europe, maintains its enthusiasm. Chief operating officer Michael Cole said: "Big shows remain a good shop window and for a brand like ours still looking to raise awareness we want to expose our products to as many people as possible.
"While cost is an issue, we still think we get good value. It may be a different story for bigger, more established brands, particularly if they do not have much to say or show."