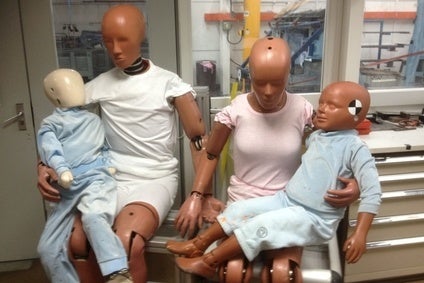 I enjoyed a first visit to Ford's vast research and development complex in Dunton, Essex yesterday. We – a small group of industry-oriented and light commercial vehicle writers – weren't summoned for a little 'show and tell' for any particular reason but the Ford people we met sure are proud of what they do there.
About 3,000 are employed at the sprawling site and, if they're most proud of anything, it's the fact that, over the last five years or so, they've redesigned the entire Ford of Europe light commercial vans range, including developing an enormous large Transit that also replaces the iconic E-series van line in North America.
Reward: record sales in September of 15,503 vans here in the UK alone (28% market share and this volume, along with CV sales around the rest of Europe, produced a 14.9% EU share) as the company works on getting 100 new specialist Transit dealers open by next Easter.
Dunton, opened in 1967 and now employing around 3,000 people, is one of two Ford European R&D centres – the other is the Merkenich Technical Centre in Cologne – and is the automaker's leading global engineering centre for commercial vehicles though due credit was given to Ford Australia for its work on the popular Thai-built Ranger one tonne pickup which UK insiders described as "always profitable and we always struggle to get enough".
Dunton also takes the global lead on small powertrains and the Ford people there are very, very proud of their punches-above-its-weight, one litre, I3 EcoBoost petrol engine with its cylinder block that fits on an A4 sheet of paper and now available in most of the passenger and CV model lines the automaker sells.
Over the last five years or so, Dunton has designed and overseen the start of production of four new CV lines including the Transit Courier, Connect, Custom and Transit full size models, the last of which was launched just a few months ago, all now built in Turkey for Europe with Russian output of some starting soon.
Courier sits on the Fiesta platform, offers the uber-efficient one-litre engine and has a starter-level 600kg/2.3 sq m payload. Connect is on the C-car platform and also offers the one-litre engine and then comes the Custom – launched early last year in the UK – with innovations such as a thru-bulkhead (you can poke something long through a hatch in the barrier) and integrated roof rails.
The biggie is the large Transit – Ford insiders call it 'Transit Global' – which is in the two tonnes-plus payload category and can be had in up to 450 varieties – front and rear wheel drive plus all wheel drive – and also replaces most Econolines (apart from top Heavy Duty variants) in the US. This model's launch a few months back completed a two year renewal of the European CV range which now numbers over 1m 'buildable combinations'.
On top of the vans, there are also passenger-carrying variants – the minibus and Tourneo-badged models with the Tourneo Connect and (longer) Grand Tourneo Connect marketed as 'activity vehicles' and the Custom promoted as an executive shuttle for the likes of hotels and airlines.
CV product development alone keeps 800 gainfully employed at Dunton from initial concept (the complex includes a design studio which was off-limits during my visit as "they're designing the next Transits in there") to SOP. Once engineering is complete, the launch team moves to the assembly plant with the rest of the 'home team' in Essex in support.
Among its many services, Dunton offers rapid prototyping, safety crash testing, emissions testing, environment testing and the aforementioned design studios.
Our tour included a fascinating 3D printing centre (among many other samples, they produced a working model of a complex aircraft radial engine to demonstrate their ability), engine emission test cells, engine fuel economy test cells, a crash test sled and the environment test cells. In these, cars can be pre-conditioned (soak-cooled or heated so everything is the right temperature when testing starts) and then tested in environments ranging from -40C to +55C, with humidity and even altitude (essentially oxygen level) adjusted to suit.
Little wonder then that, as well as meeting the needs of in-house Ford customers, the facilities are also available for hire – other items tested in those cells have included specialist sportscars and cosmetics. How well will formula A adhere to a face in hot sunshine at a certain humidity?
Running this is not cheap, as environment test lab (ETL) chief Mike Corder, discussing his area alone, explained. Original ETL construction cost 15 years ago? GBP50m. Electricity bill? Around GBP15,000 to GBP18,000 a week. Then there's the routine maintenance and facility upgrades. Cooling tower replacement? GBP250,000. New heating coil? GBP37,000. Refrigerant quantity? 27 tonnes. Cost? A recent six-tonne top-off was GBP66,000.