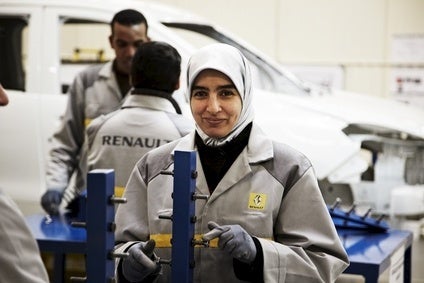 China's Shanghai GM Wuling, and BYD, have caused a surprise with world premieres at Algeria's national motor show. Renault and PSA should be taking note of a battle to come for control of this strategic regional market.
BYD has chosen to launch a facelift for its (first generation) Toyota Aygo lookalike, the F0, at this event rather than next month's Beijing show. This is the first time that the company has had a vehicle world premiere at a show outide its home market. The updated city car is due in Chinese showrooms in May, with exports to North Africa and elsewhere to follow from June.
General Motors' world premiere at the Algiers show is the Chevrolet Optra, a small sedan powered by 1.5-litre four-cylinder engine. This is a modified version of the Baojun 630 which SGMW manufactures at its Liuzhou plant in Guangxi province. The 630 and Optra can each trace their origins to the 2003 Daewoo Nubira.
Various other Chinese brands are exhibiting at the show, including JAC and DFM (Dongfeng Motor).
Algeria's new car market – modestly sized with 424,972 sales in 2013 – has traditionally been controlled by Renault and Peugeot. These brands battled for the number one spot in 2013, with Peugeot's 74,350 registrations beating Renault but by fewer than 300 cars. The addition of numbers for Dacia (37,290) gave Renault Group the lead, with Dacia also overtaking Hyundai. A new Renault plant is set to open in November. This, the French state-controlled firm hopes, should underline both its control of the local market and give it a bridgehead from which to begin exports to other countries in North Africa, and eventually, Europe.