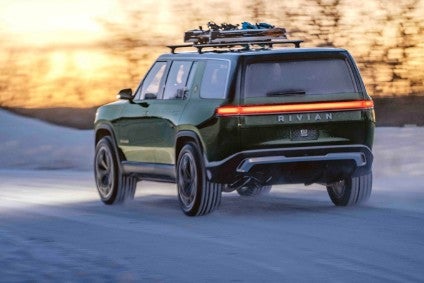 Motor shows are still happening, at least in China. Our list of global debuts at Auto Guangzhou 2020 was a very popular read on just-auto this week and is well worth a peruse – as well as the usual long wheelbase variants of familiar European models, there are some intriguing other China only models (XPeng P7 Wing anyone?) Have a look.
Having invested so much to develop and market what it calls 'self-charging' hybrids for Lexus, Toyota has taken its time to give the division EVs. That's finally changing albeit in limited form and there's still not even one PHEV. So just how electric will the brand become by 2030 or even 2025?
Chinese state owned automaker Huachen Automotive Group has been declared bankrupt and has entered a debt restructuring programme, according to local reports. The company, headquartered in the north eastern Liaoning province, owns four listed companies including Brilliance China Automotive Holdings which has a 50:50 joint venture with BMW Group. Huachen Automotive said its debts exceeded CNY6.5bn (US$990m), causing insurmountable cashflow problems. In October the company defaulted on a CNY1bn (US$152m) bond. I've seen some analysis of this which suggests the company, which owns some domestic brands, didn't take advantage of technology transfer from its European JV partner to develop those brands or develop the right domestic brand vehicles to take advantage of the rise in electrified vehicle sales. The JV with BMW is safe and the German automaker is actually increasing its stake.
Top shareholders in merging carmakers Fiat Chrysler (FCA) and PSA have moved to tighten their grip on the combined business and head off any potential hostile bidders. A prospectus for the deal, which will create the world's fourth biggest automaker, showed there would be a loyalty scheme for long term shareholders in the business, which will be called Stellantis. Investors which hold Stellantis stock uninterrupted for at least three years could be given extra voting shares. That reportedly could give extra clout to Exor, the holding company of Italy's Agnelli family [Fiat founders] and FCA's controlling shareholder, and to top PSA investors – the Peugeot family, the French government and Dongfeng. After the merger, Exor would become Stellantis's largest single shareholder with a 14.4% stake. The Peugeot family would have a 7.2% stake while the French state and Dongfeng would hold 6.2% and 5.6% respectively.
We put another interesting 'strategic collaboration' under the microscope this week. A new joint venture between their parent companies will see Mercedes-Benz and Volvo Cars sharing hybrid powertrains. It is yet another strategic collaboration between global automotive players looking for cost savings in the face of ongoing industrial transformation, heavy investment demands and lost sales revenue caused by the Covid crisis. Daimler and Geely Holding have announced plans to "collaborate on developing highly efficient powertrain systems for next generation hybrid vehicle applications". The cooperation is expected to see the pair work together on hybrid powertrains to "enhance their global competitiveness and create true economies of scale". Areas of potential cooperation include engineering, sourcing, 'industrialisation' and efficiency measures. The pressure is on the whole automotive industry to embrace electrification – including Daimler and Mercedes-Benz cars. By 2030 Mercedes wants more than half of its passenger car sales to be comprised of plug-in hybrids or purely electric vehicles. Speed is of the essence. Industrial strategies that bear down on high development costs are needed.
Cummins used its 2020 Hydrogen Day to set out ambitious plans to begin realigning its business towards fuel-cell-based products. Amy Davis, Cummins' VP and president of new power noted that "over the past five years, we've built capabilities in battery electric and fuel cell electric powertrains. We are applying our deep expertise and relationships with customers to strategically plot their paths to delivery zero emissions vehicles". Currently, the company is best known for its range of heavy-duty diesel engines that can be found in heavy trucks, buses, boats, trains and industrial power generation. However, tightening emissions regulations will make internal-combustion engines progressively more costly to run until they are ultimately outlawed over the next few decades. As a result, Cummins has invested in a range of hydrogen technologies.
Hydrogen again – Hyundai Motor and chemicals company INEOS have signed a memorandum of understanding to explore together new opportunities in the hydrogen economy, including the possibility of a hydrogen fuel-cell system in the INEOS Grenadier SUV that is under development. The companies said opportunities include the production and supply of hydrogen as well as new hydrogen applications, technologies and business models. Both companies will initially seek to facilitate public and private sector projects focused on the development of a hydrogen value chain in Europe.
Almost simultaneously with the UK government's announcement of a GBP4bn package to support a green revolution, including GBP1.3bn for electric vehicle charging points, the German government has announced a standalone EUR5bn package to aid the auto industry's transition to electric cars. The German government, while proving more directly generous to the automotive sector, stopped short of banning the sale of all diesel and petrol cars by 2030 as the UK government has just announced. The two approaches highlight the contrasting approaches of the two countries as the industry moves towards the total electrification of fleets.
The first Rivians are due to be delivered to their US owners in just seven months' time. The company says it has a waiting list stretching into 2023 for the R1T (T for pick-up Truck) and R1S (SUV). Should these vehicles have a flawless production ramp-up, this ambitious firm could take an early lead over other brands planning to launch equally big and heavy EVs next year.
News on the components front: Magna said "a premium automaker in Europe" will soon be able to offer industry-leading driver assistance features across a larger portion of its vehicle lineup, thanks to the supplier's next generation of camera based driver assistance. The Gen5 'one-box' product is a Mobileye EyeQ5-based system – one of the industry's first where the forward facing camera and related software are contained in a single assembly. Benefits include lower cost, simplified installation on the assembly line, and the ability for the technology to be applied to a wider range of an automaker's lineup. The system will provide drivers with safety and convenience features such as adaptive cruise control, automatic emergency braking and pedestrian detection.
How do you charge your EV when you have no off street parking? Although it would require a massive infrastructure installation programme, not to mention the maintenance required for anything sunk into the ground in soggy Britain, popup, kerbside smart chargers will be trialled soon. Low carbon energy consultancy Element Energy said it would head a consortium to deliver on street electric vehicle charging infrastructure, enabled by smart meters to integrate seamlessly with the existing electricity network. The consortium includes charge point start up Trojan Energy, renewable electricity provider Octopus Energy, and meter maker Landis+Gyr. As part of its Beyond Off Street programme, the UK government's department for business energy & industrial strategy (BEIS) recently awarded GBP856,000 of funding through its energy innovation programme to the smart subsurface technology for electric pathways (SmartStep) project which aims to incorporate smart functionality to on street charge points being developed by Trojan Energy.
Nissan Motor launched the redesigned hybrid powered Note compact car in Japan this week with sales scheduled to begin on 23 December. The new Note has the recently developed e-Power electrified powertrain which uses an electric motor to drive the wheels powered by a high output battery and an integrated petrol engine to generate electricity. Most hybrid vehicle wheels are powered directly by both electric motors and internal combustion engines. The Japanese automaker said the "unique" e-Power system offers "linear and exhilarating acceleration using 100% electric motor drive but without the restraint of battery charging".
Have a good weekend.
Graeme Roberts, Deputy Editor, just-auto.com