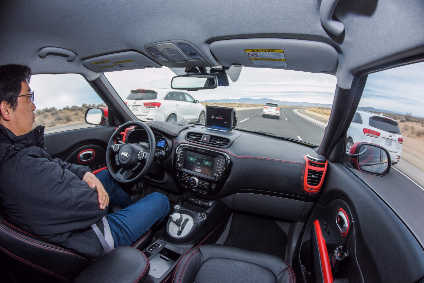 Autonomous driving will, of course, arrive in stages; there are already defined levels of autonomy and quite a bit of the tech needed is already in cars as standard or optional equipment. I was reminded of this just this week when key tier one supplier Bosch popped up with its finding one in four newly registered cars has an automatic emergency braking system on board to prevent accidents and, if necessary, bring the vehicle to a stop in the event of an emergency.
New research by the supplier also found adaptive cruise control (ACC) is also proving popular among car buyers while parking assistance systems, ranging from simple sensors to park and steering assist, are now in every second newly registered car in Germany. Additionally, 16% of new cars monitor lane changes or independently stay in their lane, and 11% of new vehicles feature camera based road sign recognition. Bosch board member Dirk Hoheisel said: "Driver assistance systems are gaining an increasing foothold in the market and are thereby paving the way for automated driving. The more familiar drivers are with driver assistance systems, the greater the acceptance of automated driving." They're getting there, aren't they?
Another of several key megatrends we're keeping an eye on is the ongoing M&A activity, particularly at big suppliers (ZF-TRW comes immediately to mind) but also at automakers (PSA-Opel). A certain Mr Marchionne has been known to bang on a bit about that so we were a little surprised to learn, in his latest reported remarks, he has appeared to row back from recent comments suggesting he is seeking to rapidly strike a merger deal with another big OEM. Speaking to an FCA board meeting late last week, Marchionne reportedly said the company was not in a position to seek deals for now and would focus instead on executing its business plan.
Our Man in Brazil, Fernando Calmon, is never quiet for long – he has a very interesting local industry to report on – and this week came news Nissan Kicks off production of its newest crossover/SUV. (I promise not to use that now-worn pun for a while now.) Fernando's reported in again today with an interesting tale about how VW Brazil, recently booted off its top perch by upstarts like Fiat and GM, after leading sales for 40 years, plans a product-led comeback. It looks like the days of automakers reheating obsolete products to serve up to Brazilians (remember the Fiat Uno?) might be ending – their latest Up appears as current as the 2017 model line I had a crack at in Italy last year (a really nice wee car) and the redesigned Polo is going to appear, later this year, on the latest MQB platform only weeks after it launches in Germany. Good.
From not too far away from Brazil came disturbing news – Venezuela('s government) has seized GM's car assembly plant and assets such as vehicles. The country is an economic basket case with Ford stopping production last year and various other vehicle makers and suppliers recently losing the will to live there and bailing out. I have no idea what the solution might be but feel for the people involved. Reuters reported today, citing a State Department spokesman, US officials are reviewing the seizure. The official line is: "We are reviewing the details of the case" with hopes of resolving it "rapidly and transparently". But, even if some stability is restored in the future, how do you re-establish the trust necessary to lure auto and parts makers back in?
Tata Motors' Jaguar Land Rover continues to extract itself from the clutches of former owner Ford for engine supply and has now kicked off production of a petrol Ingenium I4 to go with several different servings of diesel power already coming from Wolverhampton. In a region which lost 6,500 MG Rover jobs nine years ago, it's good to see JLR up already to its agreed quota of 1,400 and I bet more openings will follow.
As usual, we have a full list of model launches from the Shanghai motor show this week along with numerous news items including BorgWarner stressing electrification (big in China now as a way to reduce pollution), VW (and Audi) talking future EVs, Volvo plans to build its first all-electric model in China, Adient updating its autonomous vehicle seat concept, Toyota planning Mirai FCV tests, ZF expanding its Shanghai engineering centre, China loosening red tape, GKN making its China JV a global hub for eDrive and Adient building a bigger factory for its seating mechanisms JV.
Quite a week which, for us, was only four days long. Have a nice weekend.
Graeme Roberts, Deputy Editor, just-auto.com