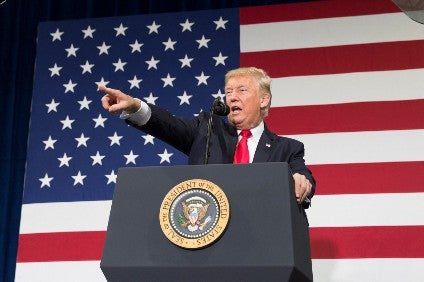 If there is one thing the autobiz – from suppliers to OEMs – likes, it's a bit of certainty. Helps with the planning. As this (very hot in the UK and US) week draws to a close, there's very little certainty as to what US president Trump's tariff war is going to achieve or how trade between the UK and Europe will pan out post-Brexit.
ZF came out fighting, telling our supplier specialist Simon Warburton threats by the US to impose tariffs on vehicles imported from the European Union (EU) were "a provocation," as commercial tensions between the two blocks ratchet up. The mooted 20% tariff imposition has stoked fears of ever-increasing retaliatory action on both sides of the Atlantic and as relations between the White House and the G7 nations have become decidedly frosty.
"Trade barriers are not at all good for our business, no question," ZF CEO Wolf-Henning Scheider said at a technology briefing at the supplier's headquarters in the southern German town of Friedrichshafen.
"We have a very strong US business it is true, but the delivery network is complex. For example, we produce transmissions in South Carolina which we ship to a European customer and we have similar transmissions coming out of European plants going in the other direction. Trade barriers would affect us significantly. We hope the discussion partners come up with viable solutions. "It is a provocation right now but let's come to a solution otherwise there will not be a winner."
A few days later, we ran this story about a number of automakers responding to US Department of Commerce to warn that proposed US import tariffs of 20% would harm the US auto industry. General Motors, BMW and Toyota were among the companies who had formally filed letters on the subject with the US Department of Commerce.
BMW warned that future investment in the US could be impacted, which would result in fewer jobs. "The domestic manufacture of automobiles has no apparent correlation with US national security," BMW wrote in a letter to US Secretary of Commerce Wilbur Ross. BMW said that Chinese tariffs on US passenger cars [ironically, the country had just cut tariffs on imported cars from 25% to 15%], imposed in retaliation for US duties on Chinese goods, had already increased the cost of exporting to China. Mercedes had similarly warned that its profits would be hit by higher tariffs on US shipments to China. Any new US tariffs would likely lead to further retaliatory measures from China and the EU. In addition, higher tariffs on components imported to the United States would make other production locations outside the country more competitive, BMW pointed out. "All of these factors would substantially increase the costs of exporting passenger cars to these markets from the United States and deteriorate the market access for BMW in these jurisdictions, potentially leading to strongly reduced export volumes and negative effects on investment and employment in the United States," BMW said.
General Motors also warned that higher US import tariffs could cost jobs and raise vehicle prices. "The United States directly benefits from GM's ability to maintain a competitive edge and maximise the effectiveness of our operations on a global scale," GM said in its letter to Commerce. It also warned that increased import tariffs could lead to a "smaller GM, a reduced presence at home and abroad for this iconic American company, and risk less – not more – US jobs." It also said that global competitiveness would be threatened.
In its letter, Toyota warned of supply chain disruption at its US facilities. "Tariffs on imported parts will disrupt US-based production of motor vehicles, since it will deprive our US manufacturing plants of key parts and components," it said. "Like most global automakers, including the Detroit-based companies, Toyota sources most key parts and components locally, e.g. engines and chassis, but also imports certain specialised parts and components. There is no vehicle in the United States, whether from Toyota, GM, Ford, FCA, Daimler or Hyundai, that is sole-sourced from exclusively US parts and components."
The European Union has also warned the United States that imposing import tariffs on cars and car parts would harm its own automotive industry and likely lead to counter-measures by its trading partners on US$294bn of US exports.
Then came the follow-up. Just published: "Today's implementation by the US of new tariffs on a range of Chinese goods imported to the US has been followed by retaliatory tariffs on US goods imported to China – including cars. US tariffs on some USD34bn of Chinese goods (widely ranging from soybeans and lobsters to cars) came into effect at effect at midnight Washington time and were immediately followed by reciprocal Chinese tariffs."
Beijing accused Washington of starting the "largest trade war in economic history". China, which recently cut tariffs on all imported automobiles, has put an additional 25% levy on 545 American products, including cars. Daimler has already said that its profits this year will be hit by additional tariffs on vehicles it ships from its US plant to China. Ford has said that for now, it will not hike prices of imported Ford and Lincoln models in China, thus absorbing the additional cost on US-made vehicles. Many automakers are said to be monitoring the situation closely before acting. Trump has initiated import tariffs to redress what he sees as unfair trade imbalances with other countries. He has also suggested that tariffs could be imposed on EU made cars shipped to the US. Trump's predecessors started wars in the Middle East – he seems bent on igniting a global trade war.
On Brexit, we heard from JLR as CEO Ralph Speth called for more Brexit certainty for business and warned that additional tariffs and trade costs under a 'bad deal' could cost the company more than GBP1bn a year. Speth called on the UK government to urgently provide certainty for business including guaranteed tariff-free access and frictionless trade with the European Union. Ahead of the publication of a White Paper outlining the government's proposed post-Brexit trading relationship with the EU, Speth said: "Jaguar Land Rover's heart and soul is in the UK. However we, and our partners in the supply chain, face an unpredictable future if the Brexit negotiations do not maintain free and frictionless trade with the EU and unrestricted access to the single market."
Traditional London black cab maker, the Geely owned London EV Company, also warned about the impact that a hard Brexit could have on business, with its chairman saying it could dismantle Britain's rejuvenated car industry. "What we really worry about is if there are big difficulties transporting goods via the [English] Channel, whether it's increased costs, or anything else," LEVC chairman Carl-Peter Forster said in Berlin at the launch of its electric taxi in Germany. "Even with no tariffs, lorries could still be stuck at the border for days," he said, highlighting how the industry relied on frictionless supply chains to transport components and assembled vehicles back and forth across the channel. Chief executive Chris Gubbey said 33% of LEVC's suppliers are in the UK, another third in Europe and the rest elsewhere worldwide.
Elsewhere, we spoke to Faurecia about future cockpit design as the living room on wheels gets closer, Volvo Trucks and Fedex demonstrated platooning in the US, we examined how Geely's Lynk & Co brand plans to expand from two to four model lines with help from group sibling Volvo Cars, BMW bought EV batteries from China and Volkswagen took steps to separate out its vast components business, in much the same way it did recently with Truck & Bus. In an age of outsourcing, even of stamping facilities or paint shops, it's intriguing to note VW Group Components has 56 plants and about 80,000 employees worldwide, and can develop and produce many vehicle parts from engines, transmissions and electric motors through to steering systems and lightweight components.
VW has now decided to group global components activities together in an independent corporate entity Group Components to improve efficiency and optimise investments "with a view to ensuring a coordinated entry to e-mobility".
Have a nice weekend.
Graeme Roberts, Deputy Editor, just-auto.com