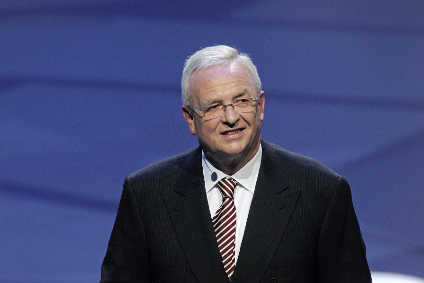 Two motor shows this week – Shanghai and New York. News, auto show-related, kicked off the week with some improvement on the Chinese sales front as the rate of decline showed signs of slowing in March.
Local joint venture Dongfeng Honda opened its third assembly plant and, reflecting China's big push on 'new energy vehicles', aka 'electrified', Valeo showed its 48V, all-electric urban vehicle prototype, as an example of its NEV products. The two-seater can reach speeds of up to 100 km/h with a range of 150km and can be charged via any power socket. The supplier also unveiled its reversible charger, enabling vehicles to become links in the power grid. Developed in collaboration with Chinese company, Xcharge, the system makes it possible to send excess electricity back to the grid. Supplier Gestamp announced a memorandum of understanding (MoU) with Beijing Hainachuan Automotive Parts to increase cooperation in areas such as electric vehicles as well as reinforce the existing strategic relationship between both companies. BHAP is a subsidiary of the BAIC Group, one of the biggest car manufacturers in China, with JV deals with Daimler's Mercedes-Benz and Hyundai Motor. The supplier said the MoU would strengthen its position in China "by increasing its scale to better serve both local and international OEMs based in China". The alliance would enhance capabilities in China, a strategic market because it is the world's largest vehicle manufacturing hub.
Volkswagen, which was a very early western player in China, and now has 33 assembly plants there, showed its zero-emission SUV concept car, the ID Roomzz. It also plans to launch a large electric SUV with three rows of seats in China from 2021. VW described the autonomous drive equipped concept car as a lounge on wheels. It won't make production as is but likely provides some pointers to the design of the large electric SUV. After launching 14 NEV models there this year, VW Group said China would produce more than half of its target of 22m BEVs by 2028 and it plans to launch a charging infrastructure. The group plans to produce 11.6m BEVs in China by 2028 across all three Chinese vehicle production joint ventures with FAW, SAIC and JAC. Construction for MEB platform vehicles is under way at SAIC in Anting and FAW in Foshan, giving capacity for an extra 600,000 units from 2020. The venture is also jointly working on its own e-car platform with Seat for smaller NEVs.
And there was loads more new product.
Honda claimed the apparently production ready X-NV, developed jointly by Honda Motor China Technology and the aforementioned local joint venture partner Dongfeng Honda, is a "concept model" for the first mass-production EV Dongfeng will soon introduce for sale only in China. It's scheduled for showrooms in the second half of 2019.
Aston Martin Lagonda finally revealed its production-ready Rapide E EV rocket ship. Only 155, developed in collaboration with Williams Advanced Engineering (WAE), will be made. The car has an 800V battery encased in carbon fibre and Kevlar and 65kWh capacity comes from 5,600 lithium-ion 18650 format cylindrical cells. This battery pack goes where the combustion version has a six-litre, V12 petrol engine, gearbox and fuel tank and powers two rear mounted electric motors producing a combined output of 610PS and 950Nm (!) of torque. So this projectile on wheels can reach 155mph with 0-60mph acceleration in "sub four seconds". Range is over 200 miles while the model can be charged using a 400V 50kW charger or 800V outlet delivering 100kW or higher. For 'destination charging", the car also has a high-power AC on-board charger capable of recharging the battery in three hours.
At the other end of the scale, Renault showed China its new, small, SUV-style EV. The A-segment K-ZE is a first part of the plan to sell 550,000 vehicles of all types in China alone each year by 2022 and finally takes the group into the world's largest and fastest growing electric vehicle market. K-ZE was shown as a concept at Paris last year and the production model is the sixth full electric vehicle in the global range. It's claimed to be the first joint-venture brand EV in the A segment designed in China for China and will be produced locally as part of the eGT New Energy Automotive joint venture between the Renault-Nissan-Mitsubishi Alliance and Dongfeng.
Kia Motors' Chinese venture, Dongfeng Yueda Kia Motors (DYK), revealed the new K3 and K3 Plug-in Hybrid. This latest version of the mid-sized sedan was designed and engineered specifically for China. It has a unique exterior design, spacious, high-quality cabin and is powered by a range of highly-efficient petrol and plug-in electrified powertrains. The car is offered with a series of China-specific technologies and functionality, Kia said. Sales start in the second quarter of the year.
Not uncoincidentally, alliance partners Renault and Nissan decided show week was a good time to announce they had established a new research and development joint venture in the city which will be known as Alliance Innovation Lab Shanghai. Each automaker holds 50% of this new entity which will conduct research and development focusing on autonomous drive, connected vehicles and electric vehicles. Technology developed by the innovation hub potentially could be applied to Renault and Nissan vehicles sold both in China and worldwide. "China is not only the world's largest auto market but is also at the leading edge of new technology which will change the face of future mobility," said Takao Asami, the alliance's head of research and advanced engineering.
New York, among other things, saw the debut of a lesser-spotted Toyota, outside the US and Australia anyway, the Highlander-also-known-as-Kluger. This is the only exclusively US-made Toyota I've ever had a go at (a friend once owned the hybrid version) so I was interested to see what the latest-RAV4-on-steroids fourth generation redesign would be like. Think "larger with an extra seat row" (and a creamy V6 in non-hybrid variants) and you've pretty much got it.
Dieselgate. Again. It's been a while. Diesel. Emissions. Cheating tests with sneaky software. You remember. I had thought that, thanks to a handy German policy of not allowing the US to extradite their citizens to face charges (a couple of low level underlings who were already in US clutches have been jailed), a certain Herr Martin Winterkorn was unlikely to be pictured anytime soon in an orange jumpsuit and handcuffs. Maybe that will change and the Germans might be a little more civilised about initial appearance courtroom wear. I was very surprised to learn this week that, following the recent European Commission accusation against BMW, Daimler and VW of breaching EU antitrust rules from 2006 to 2014 by colluding to restrict competition on the development of petrol and diesel emissions control technology for passenger cars, the former Volkswagen AG chief had been charged with serious fraud alongside four other managers in Germany for their role in the diesel emissions-rigging scandal that so far has cost the automaker about EUR29bn (US$33bn) and left tens of thousands of perfectly serviceable cars parked in the US desert with the crusher in their future. According to Bloomberg, the suspects were accused of equipping vehicles sold in Europe and the US with a 'defeat' device [which could tell if the vehicle was being tested for emissions or driven in everyday use]. The report also said the former CEO was also charged with breach of trust because of his failure to swiftly tell authorities about the devices, bringing higher fines for the company. Winterkorn's lawyer said prosecutors had denied him full access to their files and would not comment because all information had not been supplied to him. Serious fraud carries a maximum sentence of 10 years in Germany, the report noted. Prosecutors have yet to identify the other four VW managers but the five men are the first to be charged in Germany over 'dieselgate'. It ain't over yet.
Easter. Already. So we get four days off here in Olde Englande. Have a great weekend and bonus points if yours is also an extended break.
Graeme Roberts, Deputy Editor, just-auto.com