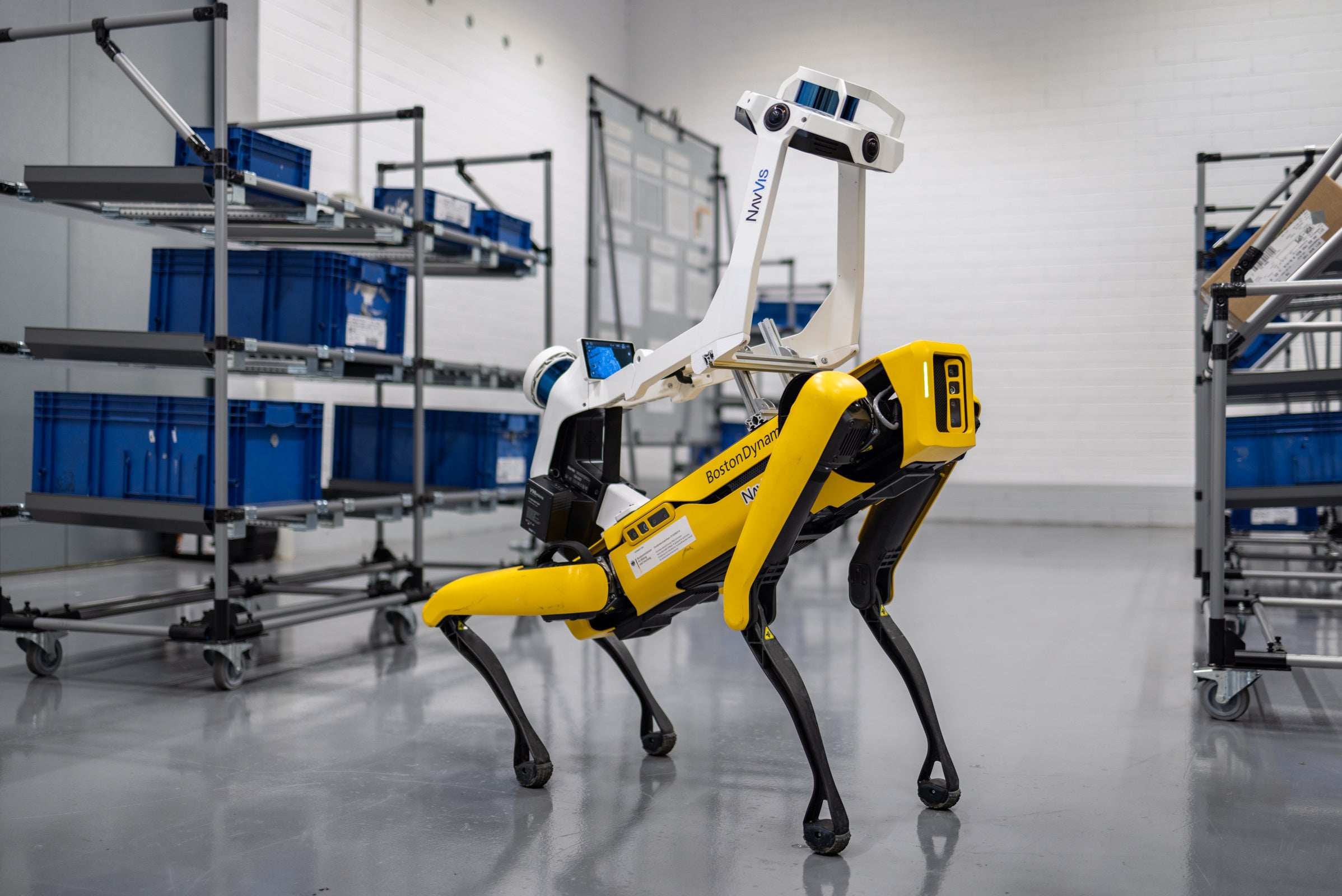 With demand for electric vehicles (EVs) intensifying around the world, automotive original equipment manufacturers (OEMs) must ramp up significant upgrades to their production facilities. And with robots and humans working on complex automated production lines in plants where manufacturing space is at a premium, efficient planning is key to minimizing costs, maximizing sustainability, and gaining a competitive advantage.
To stay ahead of the curve, Audi is working towards fully connected smart production. And the digitization of production sites is fundamental to its objectives. Since the site digitization program began in 2017, its parent company VW Group has digitally captured four million square meters of factory space around the world using NavVis VLX mobile laser scanning technology. This data is uploaded to IVION Enterprise, NavVis' high-resolution, web-based visualisation tool which enables teams to access highly precise 3D representations of the space. Now, Audi and NavVis are working together to explore the future of autonomous scanning to build complete digital representations of production facilities.

"The idea for Audi was to provide reliable and up-to-date information on their production facilities without being on-site – not only for experts but for everyone," explains Christian Feise, Customer Success Manager at NavVis.
Traditionally, planners use often outdated 2D plans and on-site inspections to take measurements and plan new production models. New layouts for production lines and elements such as conveyors and robots are discussed in workshops during the conception and installation phases, which can take weeks.
A lot of the information that automotive planners have on hand is unreliable. Some factory layout plans date back to the 90s. As well as this, many granular changes do not get transferred to old plans. "Even with up-to-date plans at the beginning of production, constant changes during the seven-year production cycle of a car do not always get integrated into the plans," explains Feise.
As a result, planners are often working with building plans that don't match the reality of the manufacturing facility. Even small variations, such as the angle of a staircase or the addition of a handling gear, can have huge implications later on.
However, using NavVis' high-resolution 3D representations of manufacturing plants and the IVION Enterprise visualization tool, plant visits can now take place virtually. Highly precise 3D models can be captured by advanced scanning technology and uploaded into computer-aided design software lines – avoiding the issue of working from outdated documents. Planners can visualize the exact position of elements such as walls and pillars to designate space for new production. They can simulate and plan the transport routes of equipment such as forklifts, automated guided vehicles (AGVs), and tractor-trailer combinations used to deliver parts, ensuring clearance of dimensions.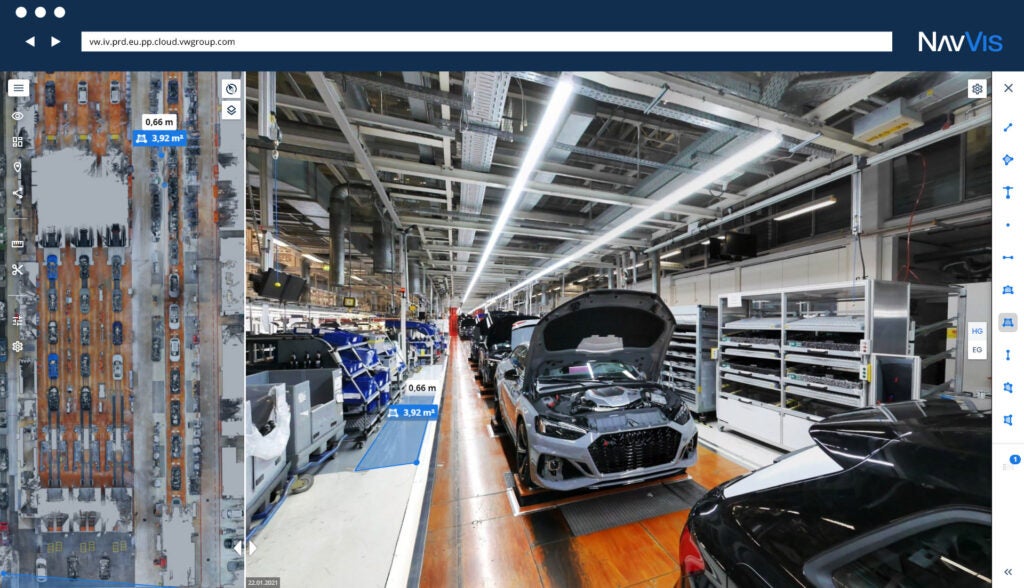 Digital representations of production facilities
Hosting a digital representation of a production facility online removes the need for on-site inspections for many processes. More often than not, it means that preliminary, in-person inspections can be eliminated. Reducing travel time and costs helps streamline operations and increase productivity, as well as enabling internationally distributed teams to work together. It also helps reduce emissions, in line with Audi's 2050 net-zero target.
The reliability of planning information is vital for manufacturers making changes to their production lines. "Setting up costly machinery like robots and large pieces of equipment based on wrong layouts can easily cost hundreds of thousands of euros," explains Feise. By working from up-to-date digital representations, manufacturers can reduce their risks of potentially costly errors and unplanned disruption to production.
NavVis also prioritizes integration, meaning that access to information is no longer restricted to experts with specialist tools and knowledge – but is available to everyone. This unlocks the potential for greater communication, collaboration, and more informed decision-making between teams and stakeholders who all have access to the same, accurate information.
The information can be easily shared and provide the basis for a range of processes, from maintenance planning to rolling out a new car line.
"Automotive OEMs often benefit from standardization among their factories all over the world," adds Feise. "Now, we can easily copy best practices from one factory to another. It might be something as big as rolling out a new car, or something smaller like looking at new material provisioning. Layouts can be easily rolled out like this."
Creating efficiencies with autonomous scanning technology
Now, Audi and NavVis are working together on a pilot project to test the potential of autonomous scanning. In an industry that already relies on a high level of automation, this next step promises to create further efficiencies.
"We are not certain what kind of automation we will introduce, but automation is the future," says Feise. One option is 'Spot', the robot dog developed by Boston Dynamics and currently being tested by Audi to carry the NavVis camera and laser equipment around the production facility to generate point clouds on a routine basis to ensure that all scans always provide reliable information. Alternatively, autonomous logistics vehicles already traveling around the plant could also carry scanning equipment.
The efforts by Audi and NavVis are part of an industry-wide trend towards greater integration and standardization across the entire automotive production process. "Even though there have been great steps towards more integration, there are still many silos, and not all solutions are known to everybody who could benefit from them," says Feise. "We are working on higher integration of different layers and different tools, working towards a complete digital twin of production."
To learn more about NavVis technologies and how they can help your business save costs and work towards connected smart production, download the whitepaper.