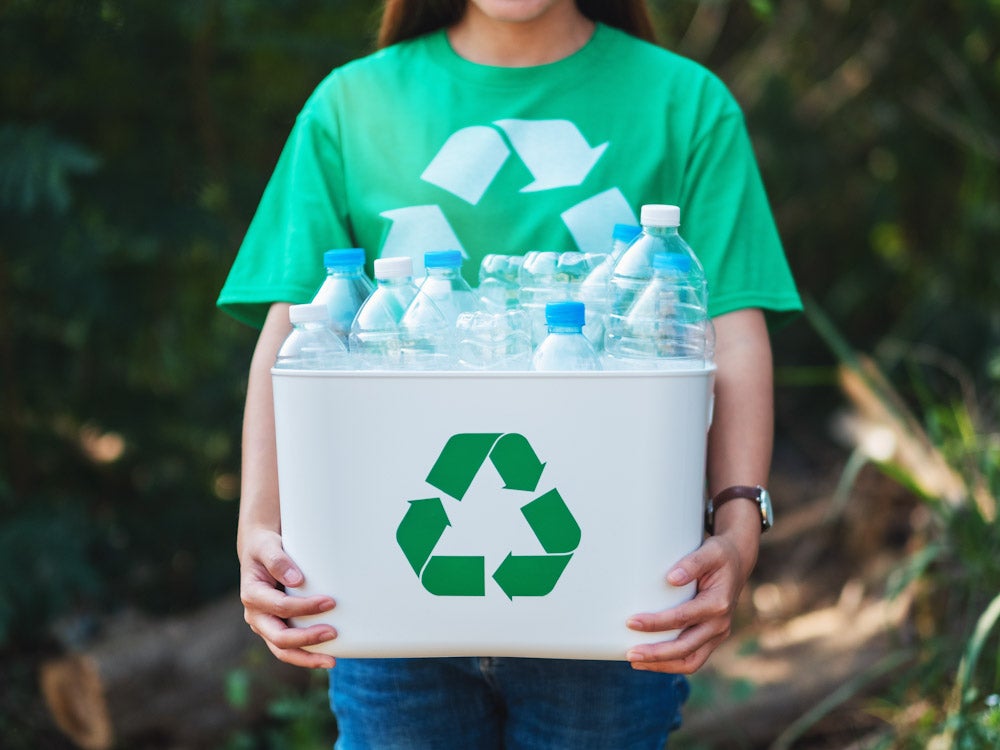 The global shrink sleeve market is experiencing significant growth, providing greater branding opportunities, and enhancing protection for products, while also making packaging more recyclable when made from the right materials.
Many manufacturers of beverages and household products are now using clear plastic bottles made from polyethylene terephthalate (PET) and high-density polyethylene (HDPE) to increase recyclability and minimise the use of coloured bottles, which can be more difficult to recycle.
To compensate for the limited branding opportunities on clear bottles, shrink sleeves ensure that bottles remain colourful for brand identification with consumers. During application, heat is typically used to shrink the sleeve around the exact shape of the bottle. And before recycling PET or HDPE bottles, shrink sleeves are easy to remove.
"We asked around 100 stakeholders in the industry how they see the development of the shrink sleeve market. Everybody agreed that it is a strong growth market," says Lothar Schaeffeler, director of technology at Siegwerk. "You see even double-digit growth in certain regions, which is remarkable.
"Many brand owners see shrink sleeves as the unique opportunity for having 360-degree billboard space. It's about covering uniquely shaped contoured containers. Shrink sleeves provide a premium look."
Alongside expanding the design and branding options, shrink sleeves also have practical advantages. One example is that shrink sleeves reveal tamper evidence to show if bottles have been opened before purchase by the consumer.
Furthermore, adding barrier properties to the shrink sleeves provides greater levels of protection for bottled items. Shrink sleeves with barriers can retain freshness for longer with consumable products, for example, keeping carbonated drinks fizzier by preventing carbon dioxide from escaping the bottle. Another practical use is that sleeves block UV rays from sunlight, avoiding interference with the contents of the clear bottle, which is particularly beneficial for perishable items such as dairy products.
Fully recyclable plastic bottles and shrink sleeves
Polyester is a stable material particularly well-suited for reuse compared with other types of plastic. While the clear PET bottle is simple to recycle, the same does not necessarily apply to the shrink sleeve material or mean they can be recycled together. For example, it is not possible to recycle glycol-modified PET (PETG) with PET bottles. When these materials are recycled together, it can lead to polyester clumping and does not result in a functional recycled bottle.
Especially in Europe, brands are using polyolefin shrink labels that can be separated from the bottles. While this is not enabling 100% recyclable packaging, it does allow for the bottle to be recycled.
And in certain markets, other materials such as PVC are common for shrink sleeves. However, PVC often has high chlorine content and can contain harmful additives to provide the material with the intended performance requirements. PVC material may be cheaper in the short term for the brand or manufacturer but has a far higher environmental impact. The material will likely end up in landfill or be incinerated, making PVC incompatible with the circular economy.
"Today, there is no good reason to use PVC shrink sleeves in the market," adds Schaeffeler.
After use, shrink sleeves may also be turned into different products through downcycling. Yet if the circular economy is to function as intended, materials must be recycled and reused for their original purpose. A drink bottle and its shrink sleeve should remain these after recycling in a closed-loop system, instead of being repurposed into an item of clothing or discarded altogether. However, achieving circularity is dependent on the materials.
"We have much smarter opportunities in recycling the bottle material with the shrink sleeve material by combining the right materials," says Schaeffeler.
Schaeffeler sees a trend of brand owners and manufacturers moving away from PETG and other materials to instead using crystallisable PET (CPET) for shrink sleeves, which can be recycled at the same time as the bottle without requiring separation.
"Performance of these new shrink sleeve materials, like crystallised PET, comes very close to the performance of glycol-modified PET," he adds. "For most packaging, there is no reason not to switch to the much more environmentally friendly alternative material today."
In the short-term, virgin materials from fossil fuels will still need to be added to recycled PET to maintain structural integrity and performance after a certain number of cycles. Nevertheless, the required proportion of virgin materials reduces significantly through recycling.
Achieving 100% recyclability with plastic bottles
If a shrink sleeve is made from recyclable material such as CPET, it will need its ink removed before recycling. This process is known as deinking, and Schaeffeler says there are increasing numbers of recycling facilities investing in hot washing machines to achieve this. Sustainable inks play a crucial role in avoiding harmful substances coming out in the hot washing process that would need careful disposal.
Siegwerk is a specialist manufacturer of sustainable printing inks and coatings, and a recognised leader in circular solutions for the packaging industry.
"Siegwerk is very much engaged in developing advanced functional coatings and inks that enable a higher level of sustainability with an unchanged, uncompromised level of functionality and packaging performance," explains Schaeffeler.
With annual estimates putting the figure of plastic bottles produced in the hundreds of billions, it is vital to ensure that as many of these units are recycled as possible. A fully recyclable bottle and shrink sleeve with sustainable inks will bring the industry one step closer to achieving full circularity in this key packaging segment.
"Using the right shrink sleeve technology for specific bottle materials means you can recycle the bottle and sleeve together to increase the yield towards 100% recyclability," adds Schaeffeler.