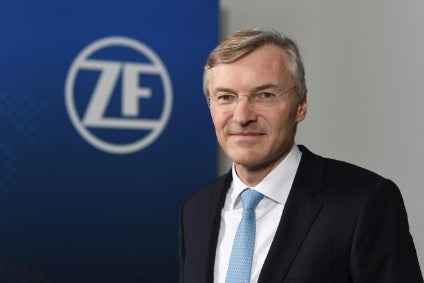 ZF is partnering with Transdev to develop a new shared mobility solution by integrating the e.GO Mover shuttle with the operating system by the global integrator.
"Transdev is joining with ZF and e.Go to bring its service mobility to the next level," said ZF CEO, Wolf-Henning Scheider at the recent Consumer Electronics Show (CES) in Las Vegas. "It will roll out new mobility solutions to urban areas.
"Automation, electrification and networking are critical enablers as the transport of people and goods continually increase in urban centres. With our systems competence, ZF is enabling and shaping next-generation mobility. Urban mobility choices like ride-hailing are one of the biggest drivers behind the development of autonomous driving."
The e.GO Moove joint venture (which partners e.GO and ZF) is providing the e.GO Mover, a fully electric, connected and automated shuttle. ZF is equipping the people mover with electric drive systems, steering systems and brakes as well as ZF's ProAI central computer (using artificial intelligence) and sensors which enable automated driving functions.
Transdev, through its global Autonomous Transport System (ATS by Transdev) will provide its supervision system, connected infrastructure and client application.
The partners will start working together immediately to provide a fully functional solution by 2020, with priority markets in France and Germany.
"The goal is to have a vehicle that is fully operational in 2025," said Transdev North America and head of Autonomous Transportation Systems, Yann Leriche, flanking the ZF chief on stage in Las Vegas. "We will start first in France and Germany.
"We are convinced public transport will lead and be the first place where real autonomous services will be developed and available for the general public. This partnership with ZF and e.GO is a great opportunity to enrich our existing mobility solutions with new autonomous vehicles in order to offer the best solutions to our clients.
Transdev provides 11m passenger trips per day and operates in 20 countries. The operator has had 3.5m passengers transported in autonomous shuttles and 1.6m km (1m miles) travelled across Australia, Canada, France, Netherlands and the US.
At the CES in Las Vegas, the German supplier also unveiled the latest iteration of its automotive supercomputer, maintaining it is the most powerful AI-capable processing system in the automotive field.
ZF's ProAI RoboThink is the first system to run NVIDIA's Drive AutoPilot L2+ starting in 2020. ZF's ProAI product family can be configured for any application – from a basic ADAS function to fully autonomous cars, commercial vehicles and industrial applications.
"With ProAI RoboThink the best news is [it is] not a trunk full of testing equipment; it is a mature product which will be available this year," added Scheider.
"ZF has set the course to shape the next generation of mobility. Our goal is enable clean, safe and affordable. There is no better time to start than now."