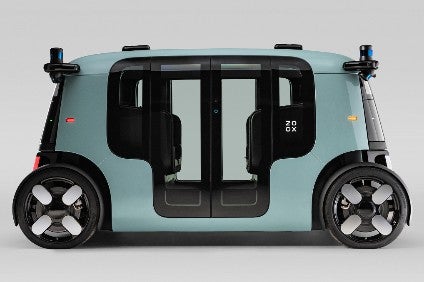 Following the debut of Amazon owned startup Zoox's fully autonomous vehicle, ZF has announced it would provide occupant safety systems and chassis modules for the new robo-taxi.
The products supplied include airbags mounted in the roof and in the seats.
The challenge, ZF said, was the innovative "camp fire seating position" which means that two passengers will be forward looking and two passengers facing the rear. Usual occupant safety systems are optimised for forward looking occupants so the safety concept for this robo-taxi has been specifically developed for these new seating positions.
A ZF statement suggested chassis components are also being supplied but did not give details.
Zoox describes its new vehicle as a driverless carriage or robotaxi which can carry up to four passengers. With a motor at each end, it travels in either direction and has a top speed of 75 miles per hour. Two battery packs, one under each row of seats, generate enough power for 16 hours of run time before recharging. To commercialise the technology, Zoox plans to launch an app based ride hailing service in US cities like San Francisco and Las Vegas.