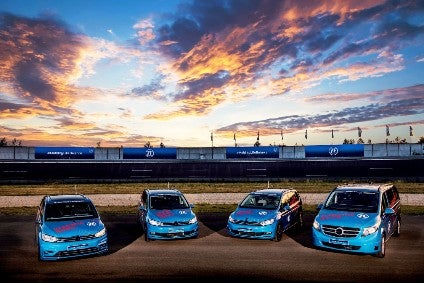 ZF has outlined a range of technologies to address its 'Mobility, Life, Balance' offer, which is complementary to its 'See, Think, Act' mantra adopted now for several years.
Presenting a wide range of its components in Dresden recently, the German supplier sought to address how its technology fits into the Mobility, Life, Balance equation.
"We focus on electric mobility, vehicle motion control and automated driving; digitalisation is a game changer to provide mobility in the future," said ZF head of Innovation and Technology, Dirk Walliser at a test track near the Eastern German city. "Electric mobility needs to remain affordable – now [it] is linked to infrastructure and energy systems.
"We take a very pragmatic view as to how to reduce CO2. The EV plus is an electric hybrid – pure electric driving is 80km-100km and with that you can cover 90% of driving distances."
ZF says it is pursuing two directions in electromobility. It is laying the foundation for a new breed of battery-electric vehicles with its new 8-speed automatic gearbox for plug-in hybrids. The new hybrid system enables high performance powered by electricity only.
It represents an alternative to purely battery-powered vehicles in certain application scenarios. Given sufficient battery capacity, vehicle manufacturers can use this to offer customers 'EVplus' – a battery-electric car which has a combustion engine for longer journeys and when more performance is needed.
A modular system of building blocks provides manufacturers with flexibility.
Walliser also outlined some of ZF's other technologies such as two-speed electric drive, which can add 5% range and improve acceleration by 10%, its ProAI range, autonomous driving innovations, its takeover mobility provider, 2getthere, while also discussing innovations in side airbags.
"We have our vision of zero accidents, which we follow consistently," added the ZF Innovation chief. "Side airbags are the most dangerous factor in a crash so with our solution we can reduce impact penetration by up to 30%. We have an external sidebag – this can reduce the consequences of accidents for occupants by up to 40%."
In the case of frontal and rear end crashes passengers have a greater amount of crumple zone between them and the object struck by the vehicle. Side crashes can present a greater risk to passengers as there is often little vehicle infrastructure to help lessen crash severity.
Almost 700 people die in such accidents every year in Germany, which equates to one-third of all car passengers killed in accidents.
ZF also highlighted its 'Flying Carpet 2.0' predictive chassis which uses sensors and smart algorithms to control suspension, braking, and steering systems.
This largely decouples the vehicle superstructure from road unevenness and the dynamic effects of driving, meaning better handling and safety.