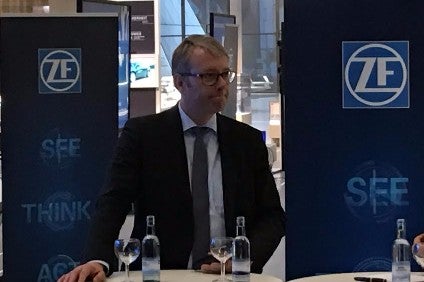 ZF says it is "on the home straight" in terms of its integration of American supplier, TRW into its ranks following the acquisition nearly two years ago.
Revealing its 2016 financial results last week (30 March), the German component manufacturer noted how it had reduced its debt from the TRW acquisition by EUR1.6bn (US$1.7bn) as it looks to target sales this year of around EUR36bn.
After the TRW acquisition in mid-May 2015, sales from the resulting new active & passive safety technology division for reporting year 2016, were included for the first time in the ZF group sales for the whole year. This helped reported sales to rise by 20.6% to EUR35.2bn.
"2016 has brought us a major leap ahead, stronger even than we expected," said ZF CEO, Stefan Sommer at his Friedrichshafen headquarters in south west Germany. "Change in the automotive industry has been something we have been decisively shaping.
"In terms of integration of TRW, we have made really good progress – we are on the home straight. We have to rule out structures we have already developed. We will be a company able to structure itself and its products.
"We are not going to have an iPhone on wheels. It is all about the combination of hardware that cooperates with fail-safe solutions and electronic solutions. This is our focus, this is what we are earning our revenue with.
"In e-mobility we bundled all activities to respond to customers' demands on the market [and] we have won new customers; of course diversification is driving us. It is the corporate culture focusing on data management."
The ZF chief also outlined some of the thinking behind the German supplier's acquisition of around 45% of shares in Astyx Communication & Sensors, with the company near Munich developing and producing ultra high-frequency radar sensors and modules for automotive and other industries.
"We are going to make major steps in radar technology," added Sommer. "We need strong players and ZF wants to be one of them. We will have to step up our efforts in the future – in our opinion we have to cover everything strategically.
"Lidar [and] Astyx…we can easily transfer those principles and those technologies into trucks, buses, off highway technology.
"It is [also] about reducing CO2 emissions, greenhouse gases. On the other hand these environmental improvements
can only be imade if you put money into it. So we have to balance this out and for this we need reliable, long-term continuous development.
"We are focusing very strongly in CO2 emissions. We are talking about 95g here and that is a lot of potential."