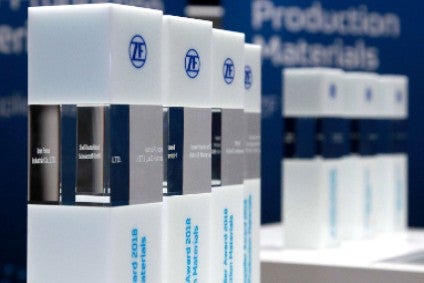 ZF has made awards to seven companies across the world at its annual Global Supplier Summit which was dedicated to digitalisation.
"We are right in the middle of a major transformation in mobility and digital products and services, more than anything else, are accelerating this change," said ZF Board member, Wilhelm Rehm.
"To realise our vision of a future mobility with zero accidents and zero emissions, we need suppliers by our side as development and innovation partners, more than ever."
The ZF Supplier Awards were made during the manufacturer's Global Supplier Summit, attended by 115 component producers, allowing them to evaluate corporate strategy, new technologies and solutions, as well as new purchasing and logistics requirements.
"Digitalisation was placed front and centre," added a ZF statement. "Such technologies and solutions range from automated drones for intra-plant transport and the SupplyOn supplier portal to solutions for smart logistics.
"The company itself has been testing and enhancing such solutions in the ZF Model Factory since the middle of last year. Also of note: ZF is the first company in Germany to receive government approval to fly drones for logistics purposes over the plant premises."
Excelfore wins award in the Digitalisation category
Excelfore has 75 software engineers offering middleware solutions to make next generation networked cars possible. ZF is working with Excelfore on the cloud platform eSync, which provides a standardised solution for over-the-air-software updates in vehicles and is used in error diagnosis.
Oechsler wins the award in the Innovation category
Plastics specialist, Oechsler, which supplies ZF worldwide with actuators for electronic parking brakes, has invested significantly in 3D printing technology during the last few years. Based in Ansbach, Oechsler has supported ZF in efforts to shorten development times of complex transmissions and housings.
Iron Force, Voit and Shell honoured in the Production Material category
Three suppliers tied as winners in the Production Materials category. Iron Force Industrial covers ZF's demand for steel and specific tubes. Based in St. Ingbert, Voit Automotive specialises in aluminium die casting and other forming technologies; it supplies ZF with transmission components.
Investing in its own company plant in Poland and as an industrial leader of the joint venture, Fonderie Lorraine in France founded in 2017, Voit has strengthened ZF's global production footprint.
Shell Deutschland Schmierstoff, is ZF's main supplier of transmission oil. ZF's long-term partnership with Shell Deutschland stood out this year particularly due to its competitive prices, cooperation with logistics and close collaboration in developing oil for the fourth 8HP automatic transmission generation.
Paul Horn and JAS Worldwide – winners in the Non-Production Material category
Awards for Non-Production Material went to companies based in Tübingen and Atlanta. Paul Horn has been a partner for cutting tools and tool retrofitting. The company optimises life cycles, re-manufacturing tools and develops new concepts.
JAS Worldwide was the ZF Group's largest sea freight forwarder in 2018 and also an important logistics service provider for air freight. From the jury's perspective, the company has been "outstanding in its proactive customer service approach, while also providing excellent key account management."