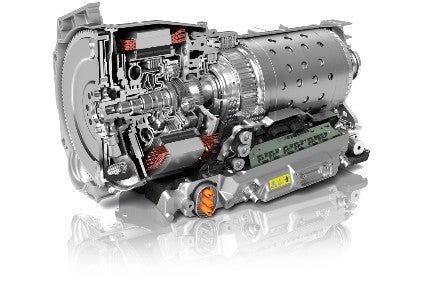 ZF said it had taken a different approach to automatic transmission design for hybrid vehicles with its new gearbox due in production in 2022.
Traditionally, hybrid transmissions are built by taking an automatic transmission and replacing the torque converter with an electric motor with a higher power density but the tier one supplier claims to have designed the new generation eight-speed unit for 'hybridisation' from the start.
The modular construction suits mild, full, and plug-in hybrid drivelines between 24 and 160 kilowatts. The power electronics are no longer designed as a separate unit but are integrated into the transmission housing without increasing the outer dimensions of the case. A new, significantly smaller, hydraulic control unit makes room for electric and electronic components.
New electric motor improves PHEV performance
ZF has estimated at least 70% of all new vehicles in 2030 would still have an internal combustion engine though a plug-in hybrid drive could considerably lower the engine's CO2 emissions.
This depends on electric range and power, both of which must allow for driving in everyday traffic with battery power only. The supplier's plug-in variation of the new transmission has an electric motor with 160kW maximum power and continuous output of 80kW. Maximum torque, without ICE help, is 450Nm. This does not require much larger packaging due to a new generation of internally developed electric motors which use welded copper rods instead of coiled copper wire. This technology, known as the "hairpin technique," allows the copper fill level to be significantly increased, which improves power density.
Forty-eight-volt mild hybrid drives can be installed at several locations in the driveline and the new transmission suits all.
Power electronics, previously in a separate, shoebox size box on hybrid transmissions, are now integrated into the transmission housing for the first time, making hybrid drive assembly no longer considerably more complex than that of a conventional transmission. Fewer high voltage cables are needed in the vehicle.
Power semiconductors produce a relatively high amount of waste heat but this is dissipated by connecting power electronics to the air conditioner refrigerant circuit.
The hydraulic control unit has been shrunk from 3.1 to 1.8 litres primarily by using direct shifting valves. In contrast to the electric pressure actuators that were previously used, these electromagnetic actuators no longer require additional pistons and bushings.
New transmission parts designed for hybrid operation include oil pumps with a small, directly attached electric motor taking over when the ICE is off.
Although the transmission body remains the same with four planetary gear sets and five shift elements, efficiency was increased by fine tuning the friction power, lowering CO2 emissions 1g/km with the ICE in use. Electric range "has increased accordingly", ZF said.
The new automatic is designed for longitudinal installation of engine and transmission and ZF expects strong premium segment take-up "because it satisfies the high demand for comfortable operation and noise reduction".
ZF will begin making the new transmission in Saarbruecken, Germany, in 2022 and launch it in China and the US soon after.
"ZF can thus make significant strides toward ensuring that hybrid drives gain quick acceptance while reducing vehicle CO2 emissions in market segments where electrification cannot be fully implemented immediately," the supplier said.