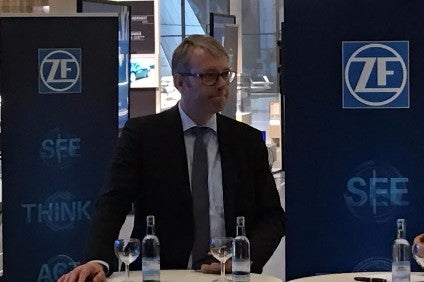 ZF says it does not envisage any fallout from the impact of Brexit, but is cautioning against any short term decisions regarding Mexican imports into the US.
The giant German supplier – announcing a 21% rise in 2016 sales of EUR35.2bn (US$38bn) yesterday (30 March) in its home town of Friedrichshafen in South West Germany – was reacting following the formal invoking by the UK government of Article 50 announcing its intention to leave the European Union (EU) and against the backdrop of 'America First' drums being banged in the US.
"It depends on how Brexit will be shaped in the future," ZF CEO, Stefan Sommer, told just-auto at his Swabian headquarters in Germany. "Of course we have to follow the political framework. We will see what these impacts will have – we are not exposed to this development because the UK is not a major player for us.
"But from Mexico to the US – that would have [a] major impact if things are decided in the short term. All these people who are trying to build walls – they are going to be losers in the end. We can see there are some worries – there are some protectionist tendencies."
Sommer's not so veiled reference to current thinking in the highest echelons of US politics comes against a background – albeit somewhat stalled – of previous hints by President Donald Trump he is mulling imposition of up to 35% tariff barriers for foreign companies established in Mexico for importing goods into America.
Despite all the political uncertainty, ZF's results today outlined a supremely healthy global supplier, which is steadily absorbing the massive impact of its TRW acquisition nearly two years ago, with EBIT earnings climbing from slightly less than EUR1.6bn to EUR2.2bn.
The component manufacturer prefers to take somewhat of a back seat when it comes to flexing its considerable domestic muscle in terms of regulatory and generic manufacturing advice however.
"The VDA [German automotive association] lost a lot of credibility and the automotive industry [as well] through well-known incidents, so the willingness of the politicians and the power to listen to the automotive industry, this has weakened the VDA," added Sommer to just-auto.
"This is not well received in other European countries."
The ZF chief made his comments on the same day he announced ZF's acquisition of 45% of the shares in Astyx Communication & Sensors, producer of ultra high-frequency radar equipment and modules for automotive and other industries.
The investment complements ZF's existing activities in LIDAR technology and will join the supplier's portfolio of radar, camera and LIDAR operations in the drive to facilitate autonomous driving and help to plug the manufacturer's so-called 'white spots' of business opportunity.
"We are going to make major steps in radar technology," noted Sommer. "We will have to step up our efforts in the future – in our opinion we have to cover everything strategically."
ZF, in common with all suppliers, is honing in on the omnipresent driver of CO2 regulations, which far from showing any signs of easing off, are on the contrary, exhibiting tendancies to be ramped up ever further.
"It is about reducing CO2 emissions, greenhouse gases," said Sommer. "On the other hand, these environmental improvements can only be made if you put money into it. So you have to balance this out and for this we need reliable, long-term continuous development.
"We are focusing very strongly on CO2 emissions – we are talking about 95g here and there is a lot of potential.
"As we have seen in the US, they have taken a step back when it comes to environmental requirements, so conventional…technology will survive longer in the US, but Europe is very different. China is very aggressive, but easy to read.
"The big question mark here is Europe."