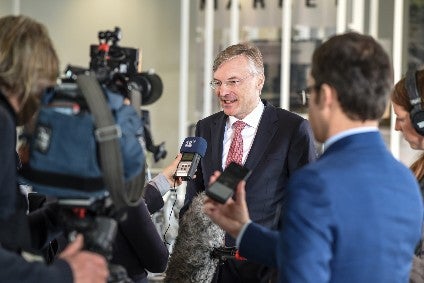 ZF's CEO says he expects Wabco shareholders will approve the German supplier's EUR7bn (US$8bn) takeover of the braking systems manufacturer later this year.
The ZF chief, Wolf-Henning Scheider made his comments at the company's recent annual results conference in Friedrichshafen, where he said the planned acquisition of Wabco would make the combined operation the world's main supplier of technologies.
"There will be an annual shareholders meeting of Wabco and they will vote," said Scheider. "At least 25% of the shareholders have to agree – that will probably be in June or July. We believe shareholders in the summer will vote in favour of this acquisition.
"It will mean integration processes – we want to do that as clear [ly] and as [well] as we did in the past with TRW; that is important for employees and customers. I believe we were really lucky here, something special. This company has been around for 30 years already. Due to the fact they are a family company, they were always very careful with profits. We want to scale it up quicker.
"I know they have three very large projects in Abu Dhabi completely free of C02, [while] in Singapore the entire Sentosa Island is equipped with their vehicles. These are lighthouse projects."
During the results conference, ZF said it had boosted 2018 sales 6% year on year to EUR36.9bn but adjusted EBIT fell to EUR2.1bn from EUR2.3bn as adjusted EBIT margin slipped to 5.6% from 6.4%.
The supplier, which swallowed up rival TRW several years ago, also increased R&D spending 11% in 2018 to EUR2.5bn, an R&D cost ratio of 6.7%.
It has just signed a supply contract with BMW for its eight-speed automatic transmission including a hybrid variant.
ZF expects 2019 sales of between EUR 37bn and EUR 38bn and an adjusted EBIT margin of between 5.0% and 5.5%.