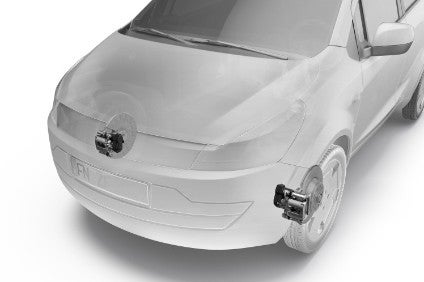 ZF has launched a claimed industry first front electric park brake, extending its range of EPB systems to a wider range of vehicles. This innovation, the supplier said, means automakers can now equip smaller vehicles with an advanced braking system and design interiors without the traditional handbrake lever or park brake pedal.
EPBs, now common in upper, medium and compact class vehicles, were previously very difficult for designers to incorporate in small and very small cars to remove the mechanical handbrake lever from the cockpit.
The supplier reckons its series production of the front EPB will allow this technology to be installed in smaller cars.
Replacing the manual brake lever with a compact switch liberates interior space and gives interior designers greater freedom.
Series production is currently ramping up in Korea and China.
Manfred Meyer, head of engineering at ZF's active safety division, said: "Front EPB technology is a real industry innovation. Even manufacturers of small and very small cars can now use the EPB with all its advantages."
Enhanced functions
In addition to the classic park brake function, the EPB also facilitates hill starts with auto-hold. In city traffic or traffic jams, the braking system also significantly increases driving comfort thanks to stop-and-go.
The higher static load distribution on the front axle supports enhanced safety for parking the vehicle on slippery slopes, ZF claims.
The front axle EPB eliminates the components needed for manual park brake operation within rear drum and disc brakes and requires only small modifications to the front axle calipers while integrating the necessary electronic components and software into an existing ESC control unit.
This can further reduce vehicle system weight as it eliminates the rear manual park brake system.
"It's a further example of how we adapt technology that has been successful in the market to specific vehicle and market requirements. In this way, we transfer the product advantages of the electric parking brake to other vehicle segments," Meyer added.
ZF claims to have pioneered rear axle EPBs in 2001 and has so far supplied over 75m vehicles with the system.