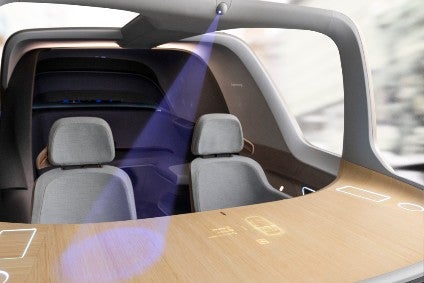 Yanfeng says it continues to see opportunity in the shared mobility sector as the world looks to emerge from the effects of the global pandemic.
Key to convincing potential customers of the benefits of ridesharing will be technology which demonstrates health safety and Yanfeng has been working on cabin cleanliness for some time.
For example, the supplier has developed an antimicrobial device that can be integrated into the headliner console and uses UV light to disinfect the air and surfaces in the vehicle interior.
"We are cooperating with our traditional customers and new mobility service providers to understand specific needs and opportunities related to the interior and develop new technology and solutions for an optimised 'shared mobility' in-car experience," Yanfeng Technology CTO, Han Hendriks told just-auto. "We definitely expect continued growth of this segment".
"We are quite optimistic on volume forecast for the coming years in general coming out of the crisis, especially in China where we have signifiant market share and where there is lots of room to grow. It does require interior redefinition and it is an opportunity for us. We work with our on-board technology to enable that.
"I strongly believe in shared mobility because the economic logic is so incredibly strong. I definitely see opportunities for us – also in terms of new features and functions. We had meetings with a shared mobility company; ideally they have the vehicle running 24h a day. When something happens that causes the vehicle to be taken out, it can no longer serve customers and that costs money.
"So solutions that enable uptime, for example, cleanability, AI and sensors to fix things before they are broken, they create opportunities for us. You want it [vehicle] to smell fresh, proof it is clean, not carrying germs of previous customers, so here our UV sanitation is useful. You can see the light [but] you can't see the dead germs after being swept."
Hendriks added following the UV sweep, vehicle occupants would see a confirmation cleaning had occurred; a process which kills 99% of germs, including COVID-19 and which is used before hospital operations. "You can destroy COVID-19 bacteria and viruses," he noted.
Part of the attraction for shared mobility may also arise, particularly in the current health climate, from customer preference for avoiding public transport with vehicle passengers able to be in control of their immediate environment.
Yanfeng offers its UV sanitiser solution directly to OEMs. The anti-microbial device sanitises interior surfaces with UV light and is similar to Yanfeng's UV Surface Sanitizer solution which the supplier integrated into its XiM20 concept car last year last year. The UV frequency light sweeps across the interior to disinfect frequently-contacted surfaces between trips.
Yanfeng does not have a sanitiser aftermarket solution for the US or European Union, but the company started to sell it exclusively in China this year during the pandemic.
Earlier this autumn, Yanfeng presented its new Experience in Motion 2021 (XiM21) concept car for the first time in Europe. During a virtual event, Yanfeng showcased its Smart Cabin capabilities for future vehicle interiors and how its holistic digital and physical solutions are integrated to enhance in-car experience.
The design of the XiM21 visualises how the company transforms Smart Cabin concepts into reality. The concept car provides a customisable environment, connected services and integrated intuitive interaction technology that respond to passengers' needs and desires based on personal preferences and specific use case scenarios.
"At Yanfeng, we have been exploring technical, societal, and industrial trends as well as future mobility trends for years," added Yanfeng Technology VP Design and User Experience, Tim Shih.
"With our XiM20 that we presented last year we demonstrated our first Smart Cabin concept – a mobility experience for future autonomous ride sharing. Our XiM21 is an example of our continued efforts to provide customers with the most advanced production-ready technologies and product solutions that are tailored for unique user experiences."
All displays, smart surfaces, and components in the XiM21 have been designed for intuitive interaction.