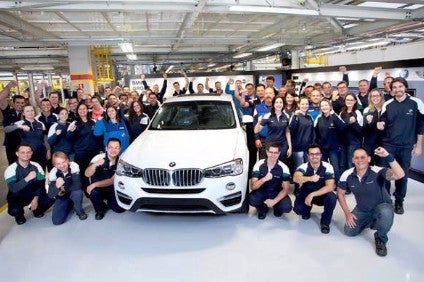 Almost two years after the first locally assembled car – a 328i – left the line at its Araquari plant in the southern state of Santa Catarina, BMW Brazil chose the X4 to be its sixth locally built product.
As wells as the 3, the plant now also produces 1 Series 3, X1, X3 and Mini Countryman.
BMW Brazil plans to sell 550 X4s yearly, some 50% more than the fully imported version. Priced at BRL299,950/US$92,300, it is the country's most expensive locally-produced model.
According to just-auto's product life database PLDB, the X4 is a sleeker, restyled version of the second generation X3. These models share front doors, bonnet, front bumper, grille, and front wings. A concept version premiered at the Shanghai motor show in April 2013 with the production model having its debut at April 2014's New York auto show. Both rear- and all-wheel drive variants are available, depending on the market. The X4 concept had the same 2,810mm wheelbase as the X3. X4 series production commenced at Spartanburg, US, in March 2014. European market sales followed from three months later.
Assembly by AvtoTOR at its Kaliningrad plant commenced in June 2015.
The X4 will not have a mid-life update, instead it will be replaced in 2018.
This year the Brazil plant's production will be slightly over 15,000 units, about half of its two-shift capacity.
Direct competitors Audi and Mercedes-Benz assemble two models each in Brazil (respectively, A3 saloon and Q3; C Class and GLA).