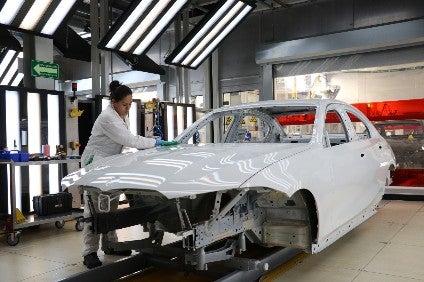 A location reportedly has been chosen for BMW's new assembly plant in Russia.
Earlier reports had said the automaker would construct a factory in Kaliningrad and, according to automotivelogistics.media, citing the official government news source, Russian Gazette, it will be in the Khrabrovo industrial park.
The report said the location was ideal for minimising logistics because KD kits, components and equipment from the European Union would come by sea through the Kaliningrad port.
The industrial park is 50km (30 miles) away from the seaport and only 3km (two miles) from Kaliningrad airport.
The Russian industry and trade ministry also is planning an automotive components cluster of up to 20 companies in Kaliningrad, the report added.
Russian carmaker Avtotor has been assembling BMWs under contract in Kaliningrad for 20 years, importing kits through the port.
The new independent plant is estimated to cost between EUR270m amd EUR290m, according to the reports, with production capacity around 35,000 units a year.
BMW boosted Russia sales to 35,600 vehicles in 2018 versus 30,000 in 2017.
The report said substantial tax breaks on profit, land and property were available for the plant and would run for six years once production starts, with room for extension.
A Kaliningrad regional government spokesman told Russia Gazette said it had negotiated with BMW and was ready to provide a suitable site in the industrial park.
"We have provided the German company with everything they wanted, and now everything depends on the SPIC [special investment contract]."
BMW reportedly has submitted an investment contract request to the Russian government to secure state aid for the investment while Avtotor has also submitted a separate request with no reference to BMW production, suggesting it would no longer build BMWs once production at the new factory begins.
BMW originally announced it would build an independent plant in Russia back in 2013.
The project was put on hold because of rising tensions between Russia on one side, and US and the EU on the other, which included international sanctions against Russia, the reports said.
Earlier this month, BMW opened a new assembly plant in San Luis Potosi, Mexico.
The company spent US$1bn on the new factory which employs 2,500 people and will have a capacity of up to 175,000 units per year.
The automaker traditionally has started new factories off on an SKD or CKD kit assembly basis, adding more local manufacture, such as panel pressing, once volume reaches a certain level.
It also usually starts with a popular model already proven in other factories – Mexico started with a brand staple, the 3 Series sedan.