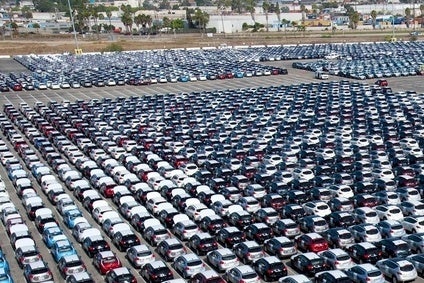 Western Europe's new car market grew by almost 15% in October against last year's low base for comparison. Although the market continues to be supply constrained, attention is now turning to the weak outlook for underlying demand.
According to GlobalData's market data, the Western Europe annualised selling rate (SAAR) fell marginally from 10.5 mn units/year in September to 10.3 mn units/year in October.
In raw monthly registration terms, October 2022 was up 14.7% YoY to just over 820k units, though this still leaves the year-to-date (YTD) result down 8.1%.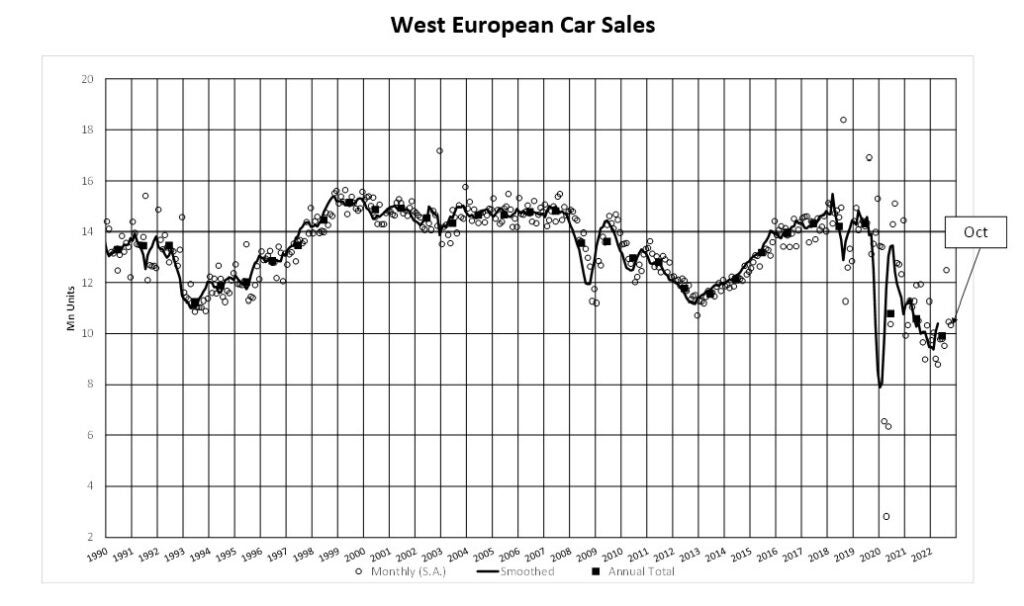 The German passenger vehicle  selling rate fell slightly to 2.4 mn units/year from 2.6 mn units/year in September. For the UK, the car market recorded a selling rate of just under 2 mn units/year in October, up from 1.3 mn units/year in September. The French car market selling rate slipped back to 1.5 mn units/year, the second selling rate contraction in a row. For Italy, the car market selling rate remained flat at 1.4 mn units/year while still producing double-digit YoY raw sales growth of nearly 15%. Spain's car market selling rate fell to 862k units/year in October, from just over 1 mn units/year in September, breaking a three-month run of MoM increases.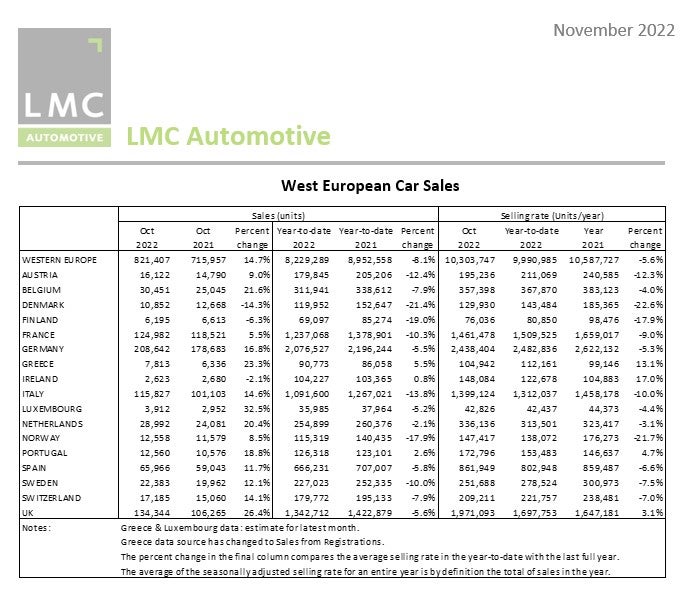 GlobalData analysts say that the current forecast for 2022 will see the region's market at around 70% of pre-pandemic levels on an annual basis.
Analyst Jonathon Poskitt told Just Auto that supply shortages continue to hold the European car market back. "Even though the economic backdrop has deteriorated markedly as the year has progressed, the supply of vehicles is unable to keep up with demand," he says.
He expects to see some recovery in 2023, but off a low 2022 base. "We do expect some recovery in sales volumes for the region in 2023, as the supply side issues ease back through the year. A build-up of sales backlogs will support this improvement despite key economies facing recession in early 2023.
"However, even with some improvement assumed next year, the market will remain far below what was considered normal operating volume pre-pandemic."