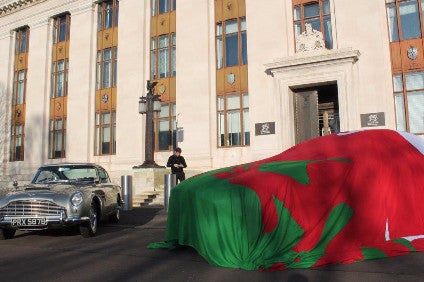 Automotive leaders in Wales are hailing today's (24 February) announcement Aston Martin is to build a second UK manufacturing facility as significant opportunity for local suppliers and inward investment.
The British sports car company is to produce a crossover based on the 'DBX' in a giant hangar near the Welsh capital of Cardiff, with 1,000 jobs being created at the St Athan and Gaydon sites and up to 3,000 more in the supply chain.
"If you look at the cross section of companies in Wales supplying into the automotive sector, I have no doubt many of them could be part of Aston Martin's supply chain," Welsh Automotive Forum chief executive, Tim Williams told just-auto from Cardiff.
"We were against 20 different regions globally and Wales is the chosen one. "The skills factor we have in the supply chain, the automotive cluster we have here and the willingness and support from the Welsh team, they have probably not had elsewhere."
There are currently more than 150 companies involved in the automotive supply chain in Wales, contributing GBP3bn (US$4.1bn), but the GBP200m investment from Aston Martin will be the first time in almost 50 years vehicles will have driven off a production line in the Principality.
Plans to install the new production lines are being worked out and it is estimated job 1 for the DBX will roll off the new lines in 2020 on the site, which currently belongs to the British Ministry of Defence (MOD). It is anticipated more than 90% of production will be exported outside the UK.
The location is what we call the 'super hangar' in the MOD facility [and] is a ready-made space," added Williams. "The Prime Minister [David Cameron] had a hand in that, saying I don't want to lose Aston Martin out of the UK and if it means you [MoD] giving up that building, then that is right.
"The Prime Minister did say a couple of months ago he was actively supporting the bid for Aston Martin to come to South Wales."
The Welsh Automotive Forum adds it hopes the Aston Martin announcement will encourage other manufacturers and suppliers to consider Wales as a production base.