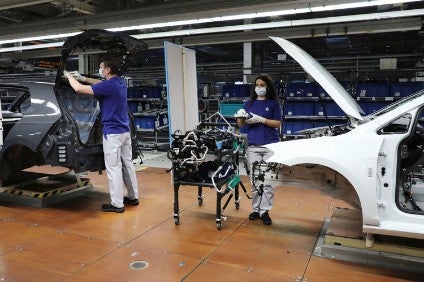 Volkswagen has detailed a "step by step" resumption of passenger car production starting with Zwickau and Bratislava from 20 April and other German, Portugal, Spain, Russia, South Africa, North and South America plants from 27 April.
May will see production resumed in South Africa, Argentina, Brazil and Mexico.
Ralf Brandstaetter, COO of the Volkswagen brand, said: "With the decisions by the federal and state governments in Germany and the loosening of restrictions in other European states, conditions have been established for the gradual resumption of production.
"VW has prepared intensively for these steps over the past three weeks. In addition to developing a comprehensive catalogue of measures for the protection of our employees' health, we have also forged ahead with the re-establishment of our supply chains."
Short time working will continue at plants in Germany but the number of employees affected will be successively reduced in line with the resumption of production.
Production will be resumed in line with the current availability of parts, government requirements in Germany and Europe, the development of sales markets and the resulting modes of operation of the plants.
Irrespective of these developments, compliance with the stringent health protection measures for employees will be top priority.
Production and logistics chief Andreas Tostmann said: "We are providing safe workplaces and the maximum possible level of health protection with a 100-point plan. We are ensuring the economy regains momentum and cars once again leave the plants and reach our dealers and customers."
Components operations had already started to resume production at plants in Brunswick and Kassel from 6 April, followed by plants in Salzgitter, Chemnitz and Hanover, as well as the Polish plants, from 14 April, to safeguard component supplies for vehicle production in China.
The company can also call upon experience gained with the production ramp-up at its plants in China where a large number of consistent health protection measures have been successfully implemented.
Some 32 of 33 plants in China have now returned to production and no cases of coronavirus have been reported among employees.