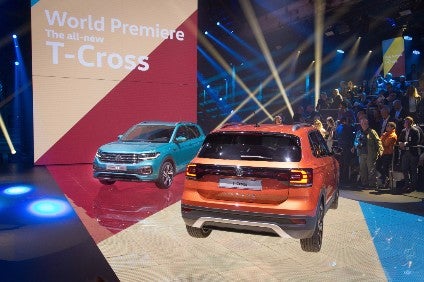 At three events in Amsterdam, Shanghai and Sao Paulo, Volkswagen launched its T-Cross, its first small SUV, claiming it sets new standards for its class.
Ralf Brandstaetter, COO of VW Brand, said the unveilings in the three cities "shows just how important the T-Cross is to the brand as a truly global product".
Brandstaetter, in Amsterdam, introduced the new model with Cara Delevingne, British supermodel, actress, musician and T-Cross 'testimonial'.
The T-Cross is built on the modular transverse matrix (MQB) which allows the driven front axle to be located very far forward. Overall length is 4.11m and the 2.56m wheelbase is comparatively generous, allowing a spacious interior with enough room for five people. The sliding rear seat can be adjusted forward or rear by 14cm, allowing either more passenger leg room or more luggage space. The luggage compartment holds between 385 and 455 litres. The rear seat back folds down fully and a flat loading space of up to 1.281 litres is available.
The SUV will launch with four turbocharged engines: three petrol and a diesel. The two 1.0 TSI I3 petrol engines with petrol particulate filter generate 70kW/95PS or 85kW/115 PS. The top model is the 1.5 TSI I4 with 110kW/150 PS. The 1.6 TDI I4 diesel develops 70kW/95 PS. All engines comply with the latest Euro 6d-TEMP emission standard.
Standard equipment includes numerous driver assistance systems which were previously reserved for higher vehicle classes.
Standard safety kit includes Front Assist area monitoring system with Pedestrian Monitoring and City Emergency Braking System, lane keeping assistant Lane Assist, Hill Start Assist, proactive occupant protection and Blind Spot Detection lane change assist with integrated Rear Traffic Alert. Driver Alert System, automatic adaptive cruise control and Park Assist are options.
Smartphones can be charged inductively, and up to four USB ports are fitted.
This Polo family model is also manufactured at the Navarra factory in Spain where VW is set to invest about EUR1bn by 2019 in order to meet particularly strong growth for compact SUVs. Around 10% more jobs will be created.
For the 2017-2027 period, independent forecasters expect an approximate doubling worldwide of CUVs (Crossover Utility Vehicles) in the small car segment. South America and China – two further growth markets – will get versions of the T-Cross tailored for those markets.