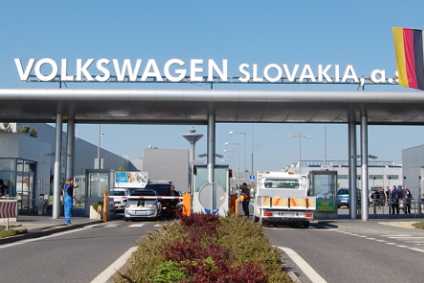 Volkswagen Slovakia's six-day walkout by thousands of staff has ended with workers returning to work after an improved offer by the automaker.
The Moderne Odbory union had tabled a 16% demand, with the stoppage receiving very public backing from Slovak Prime Minister, Robert Fico, who criticised the level of wages paid in the country.
The Slovak Premier raised the issue as part of a wider context of overseas companies moving heavily into Central and Eastern Europe to take advantage of lower wage economies, but the region is now subject to twin pressures of competition for labour starting to drive up salaries.
"Why should a company making one of highest quality and most luxurious cars with a high labour productivity pay its Slovak workers half or one third of the amount it pays to the same workers in western Europe?" said Fico in comments confirmed to just-auto by the Prime Minister's office in Bratislava last week.
But following the deal between Volkswagen and Slovakia, which saw a new collective agreement settled between both parties that will run from 1 June this year to 31 August, 2019, staff have returned to the factory after the company upped its original 8.7% offer.
Specifically the deal includes:
A wage increase of 4.7% from 1 June this year.
A 4.7% wage increase from 1 January next year.
A rise of 4.1% from 1 November, 2018 to 31 August, 2019.
"We are glad to improve the social and financial security of our employees," said Volkswagen Slovakia chairman, Ralf Sacht in a statement sent to just-auto from Bratislava. "It is in our common interest to continue to ensure the future and stability of jobs for thousands of employees, thanks to the appropriate and sustainable growth of wage costs.
"The final agreement is therefore a combination of a percentage increase in tariff wages, an individual growth of tariff classes and a one-off payment. This has resulted in a balanced solution for our employees, as the one-off payment is the same for all employees, regardless of the tariff class."
Other agreed points include:
Single payment of EUR500 (US$560) for all employees – the same amount for all tariff classes.
Income replacement during the first three days of incapacity for work amounting to 40% of the daily average wage, based on a sick-benefit.
Increasing contributions to voluntary blood donors.
In 2018 and 2019, one additional holiday day per year, during the validity of the special working time agreement.
A spokesman for the Moderne Odborny union in Slovakia confirmed to just-auto the strike had ended and would provide further details later.