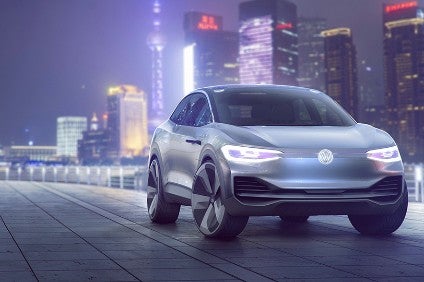 Volkswagen is gearing up to take on Tesla with four affordable, VW brand electric vehicles in the coming years plus Audi showing off an upscale battery-powered crossover it aims to introduce in 2019.
To make its electric vehicles more viable, the German company has made "huge progress" in reducing production costs, Christian Senger, head of the VW brand's electric car project, told Bloomberg in Shanghai where VW is unveiling its first battery powered crossover.
The models, which will each have ID in their name, will be partly developed in China and also include a mid-size sport utility vehicle, a hatchback and a sedan.
"Offering our electric cars for prices similar to combustion engine vehicles really is a game changer," Senger told Bloomberg. "We're using the need to step from combustion engine to electric cars to reinvent [the] VW brand," he said. He is a former developer of BMW's project that created the battery-powered i3 city car.
VW's display at the Shanghai show includes the first public presentation of the ID Crozz crossover concept. The model is slated to begin production in 2020, Bloomberg said.
Audi, meanwhile, showed the second model of its planned electric-car line dubbed E-tron. The Sportback concept features a declining, coupe-like roofline. Audi will introduce five purely battery-powered and hybrid vehicles in China in the next five years, the report said.
Volkswagen and its venture partners in China plan rollouts of other electric models under current brands next year, and the company is ready to meet any minimum production quotas for the vehicles set by the country's government, VW CEO Matthias Mueller said in a Bloomberg Television interview.
Even with some "gloom" about the national market for premium cars amid potential purchase limits, Volkswagen still predicts growth in demand in the segment, he said.