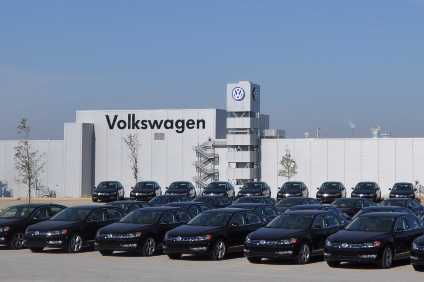 Volkswagen has said that it has almost achieved its target of 9,300 jobs being removed from the company by early retirement.
At a works meeting in Wolfsburg Dr. Herbert Diess, CEO of the Volkswagen brand, reported on the progress achieved in the year to date and also presented the outlook for the next few months. He said: "The year is going quite well for Volkswagen – our strategy is taking effect. In the next stage, we will need to set our finances on a fundamentally sound foundation."
"My objective is that we should do everything in our power to make Volkswagen top fit for the future," said Diess.
Volkswagen says it has set out "the largest product offensive in the history of the brand has been launched". This year alone, Volkswagen says it will be presenting more than ten new models.
Over the next few months, Volkswagen says it will need to keep up the momentum and to position itself competitively with the pact for the future. "We need good financial results. Only then will we be able to shape our future, to invest and to develop innovation pressure," Diess said.
"We must become courageous, slim, fast and aggressive. We must be prepared to change fast – to develop new capabilities and to break away from old habits," he added.
Productivity targets
VW said that achievement of the productivity targets set out in the pact for the future will be essential if Volkswagen is to be competitive. "The key to financial recovery is the productivity of our plants. Our target for 2017 is a productivity improvement of 7.5 percent. We have agreed on a total improvement of 25 percent by 2025," Diess said.
Currently, VW said that measures for more efficient production are being identified at all the brand's plants – and implemented step-by-step.
Early retirement take-up on track
Human Resources Board Member Dr Karlheinz Blessing described the human resources position for the brand – which has said that it wants to avoid compulsory redundancies in its plans. "There is considerable interest in our partial early retirement scheme for people born between 1955 and 1960," he said.
"This offer also applies to management. We are rapidly approaching our target of 9,300 contracts signed. Employees who wish to take partial early retirement must make their decision by July 31. People who decide later will lose this opportunity. We cannot improve on these conditions and employees who would rather continue to work are saying that they will make an active contribution, will qualify for new tasks and will be prepared to transfer to another business area or location."