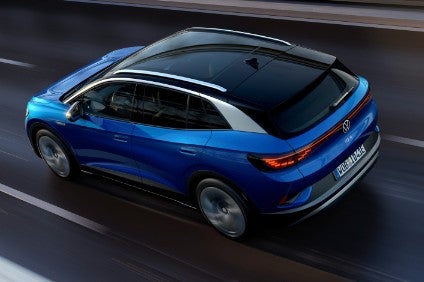 Peugeot's 208 may well last year have finally unseated Volkswagen's Golf from its 14 year reign as top selling car line in Europe, but the German brand still topped the EV sales chart.
According to JATO Dynamics data, 2022 registrations of electrified vehicles (BEV, PHEV, EREV, FCEV) in Europe reached a new record of 2.59m units. Year on year, volume increased by 15% and by 92% compared with 2020.
In 2019 – before the Covid-19 pandemic hit European markets – registrations totalled 561,000 units but EVs' market share has since grown from 3.6% to 23% last year – a volume increase of 362%.
JATO global analyst Felipe Munoz said: "The rapid growth in demand for EVs is the consequence of continued government support through incentives, and a shift in consumer sentiment thanks to increasing awareness around the available product offering."
BEVs drive growth
Last year, BEVs (battery electric vehicles) aka pure electric vehicles accounted for 60% of all EV registrations. While registrations of PHEVs (plug-in hybrid electric vehicles) declined, BEVs recorded a 29% increase between 2021 and 2022
to 1.56m units – a new record for Europe. Almost 14 of every 100 new cars registered in Europe last year were powered by a pure electric powertrain.
The leading countries for BEV market share were Norway (79%), Sweden (33%), Netherlands (23%), and Denmark (21%), followed by Finland, Switzerland, and Germany each with 18%.
Looking at market share variation, the most significant growth was in Norway (+16 points), Sweden (+14p), Finland (+7.5p), Denmark (+7.3p), and Ireland (+6.7 points).
Italy (-0.9 points) was the only market to see a decline between 2021 and 2022.
VW group leads in BEVs
In 2022, Volkswagen Group led the BEV market with 349,200 registered units and a market share of 22.4%. This was thanks to strong demand for its electric SUV offering and the Cupra Born. Despite this, the automaker was unable to gain market share due to the poor performance of the ID.3 and the end of the e-up.
Last year, VW lost almost three market share points to Tesla, Stellantis, BMW Group, Geely Group, and several Chinese EV makers. Despite a 35% drop in registrations of the Model 3 – Europe's best-selling BEV in 2021 – Tesla saw a volume increase of 38%, outselling Stellantis to secure second place in the BEV ranking by OEM. This was possible due to strong demand for the Model Y, which topped the ranking by model in nine European markets, while the Model 3 led in three.
Stellantis also gained market share thanks to the performance of the Fiat 500 and Opel/Vauxhall Mokka. BWM Group saw a 75% increase in volume as a result of strong demand for the i4 and iX, outselling rival Mercedes-Benz which was impacted by a decline at Smart.
Geely (owner of Volvo and Polestar) and China's OEMs saw BEV registrations more than double between 2021 and 2022. The results of the former were driven by stong demand for the Polestar 2, Volvo XC40 and C40 in Sweden, Norway, Germany, and the UK.
Of Chinese carmakers operating in Europe, MG accounted for the majority of new vehicle registrations (80%) with an increase of 111% to 49,200 units.
Best selling BEVs
Tesla led the overall ranking by model with the Model Y and Model 3. Registrations of Tesla's SUV exceeded 137,000 units while the US manufactuer registered 91,500 units of its sedan – registrations of the Model 3 totalled 141,400 units in 2021. The
success of the Model Y came at the expense of the Model 3 due to the increasing popularity of SUVs which accounted for 51% of total BEV registrations. The same trend was seen in the case of Volkswagen's ID.3 (hatchback), and ID.4 (SUV) – registrations of the ID.4 increased by 23% as registrations of the ID.3 declined 24%.
Stellantis' Fiat 500 secured fourth place in the model ranking with a 49% increase in registrations thanks to strong demand in Germany and France – its largest markets. The electric version of the 500 took 37% of the model's total registrations. Other strong performers include the Dacia Spring (+76%), Hyundai Ioniq 5 (+73%) and the Polestar 2 (+66%). Among the latest launches, Renault registered 32,600 units of the
electric Megane (46% of its total); Cupra 32,400 of the Born; BMW 25,500 of the i4;
Volkswagen 21,100 units ID.5s; Volvo 18,100 units C40s; and Mercedes 16,400 EQBs.