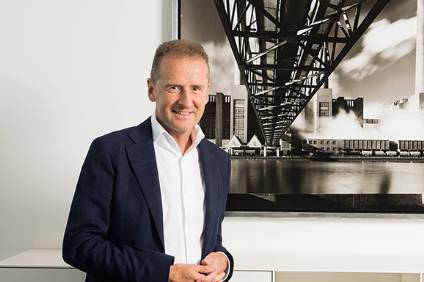 Volkswagen Group has reported an 18.6% decline to third quarter operating profit as its bottom line was dented by weaker vehicle sales and the impact of tighter emissions testing regulations – WLTP – in Europe.
Third quarter vehicle sales were off 3.6% on last year at 2.55m units while Q3 production declined by 8.2% at 2.39m units.
However, its results were better than many analysts predicted and the company maintained its guidance for 2018 operating return on sales before special items at both the group and its passenger cars business area to come to 6.5 to 7.5%.
Volkswagen Group increased deliveries to customers by 4.2% year-on-year in the first nine months and said group sales revenue was up by 2.7% to EUR174.6bn. At EUR13.3bn, YTD operating profit before special items remained close to the previous year's level.
CEO Herbert Diess acknowledged the challenges facing the company: "The development in the first nine months of the current fiscal year is encouraging. We are still facing major challenges."
VW Group operating return on sales stood at 7.6%, but the diesel issue gave rise to special items of EUR2.4bn (previous year: EUR2.6bn). Profit before tax increased by EUR2.2bn to EUR12.5bn.
In the first nine months, the Volkswagen Group delivered 8.1m vehicles to customers worldwide, up 4.2%. The company said a strong first half was able to compensate for September's decline in deliveries, which was mainly caused by the WLTP transition.
VW also said it continued to do well in China, but noted that the trade dispute between China and the United States 'dampened business and consumer confidence, among other things, and brought about a significant market decline in the third quarter'.
Outlook
The Volkswagen Group confirmed its targets for the current fiscal year, despite challenging market conditions. The VW Group expects that full-year deliveries in 2018 will continue to moderately surpass the previous year's figure. The sales revenues of the Volkswagen Group and its business areas are targeted to grow by as much as 5% year-on-year. In terms of the operating profit before special items for the Group and the Passenger Cars Business Area, VW forecast an operating return on sales in the range of 6.5 – 7.5 percent in 2018. Including special items, the operating return on sales is expected to fall moderately short of the expected range for both the group and the Passenger Cars Business Area.