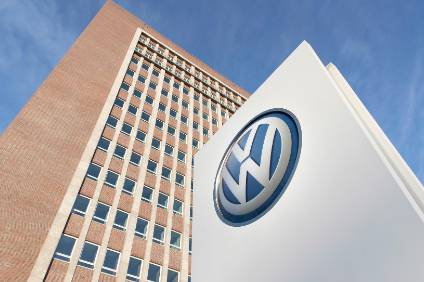 Volkswagen Group has reported a quarterly decline to operating profit as it set-aside EUR1bn for legal costs associated with its long-running 'dieselgate' scandal fallout.
However, the company also confirmed 2019 targets for deliveries to customers, sales revenue and operating profit before special items.
First quarter operating profit was EU 3.9bn (versus EUR4.2bn last year) as the company was hit by 'negative special items arising from legal risks of EUR1bn'.
Group sales revenue of EUR60bn exceeded the prior-year figure by 3.1%.
VW said Q1 operating profit before special items improved by EUR0.6bn to EUR4.8bn. Profit before tax was EUR4.1bn (EUR4.5bn in Q1 last year).
Chief Financial Officer Frank Witter said: "The Volkswagen Group is once again off to a good start this year. The sales revenue performance and earnings growth in the first three months of the current fiscal year are encouraging. But we have to continue to pick up the pace when it comes to our transformation."
The Volkswagen Group confirmed full-year targets for deliveries to customers, sales revenue and operating profit before special items.
"We are also facing challenges in connection with increasing global economic risks. Nevertheless, we maintain our targets for 2019," Witter added.
Sales revenue of the Volkswagen Passenger Cars brand rose by 7.1% to EUR21.5bn in the first quarter. Operating profit before special items improved to EUR921m (EU 879m last year). VW said Improvements in mix and price positioning as well as positive cost development compensated for the impact of lower volumes and negative exchange rate effects. In the reporting period, negative special items amounted to EUR400 m.
At the Audi brand, sales revenue fell to EUR13.8bn (EUR15.3bn last year) due to, "among other things, the new allocation of sales companies". Audi operating profit was EUR1.1bn (EUR1.3bn last year) in Q1. The company said improvements in the mix and margins as well as positive exchange rates could not compensate for the adverse affects of model launches, phase-outs as part of the product initiative and WLTP-related fluctuations in the portfolio, and higher upfront expenditure for new products and technologies. Effective 2019, "the multibrand sales companies have been separated from the Audi brand to increase overall transparency and comparability".
Sales revenue at the Skoda brand increased by 8.2% to EUR4.9bn in Q1 (EUR4.5bn last year). Skoda operating profit decreased to EUR410m. The decline mainly resulted from negative exchange rate effects and cost increases. Meanwhile, volume increases and pricing measures had a positive impact, VW said.
SEAT fared relatively well. Sales revenue at the SEAT brand increased to EUR3.1bn (EUR2.8bn last year) with operating profit up by 5.5% to EUR89m due to volume and mix effects. This more than offset the negative impact of cost increases.
At the Bentley brand, sales revenue climbed to EUR456m (EUR351m last year's Q1). Operating profit improved to EUR49m (versus a loss of EUR44m last year), which was mainly the result of the availability of the new Bentley Continental GT as well as favourable mix effects and exchange rate trends.
At EUR5.2bn, sales revenue generated by Porsche Automotive was below the figure for the same period in 2018 (EUR5.4bn). Operating profit fell by 11.6% to EUR829m, due to market and production-related declining volumes.