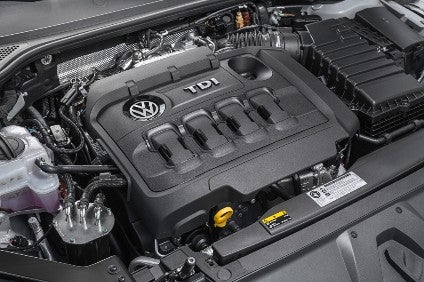 The Volkswagen brand in Germany has launched a diesel scrappage scheme applicable to Euro 1- to Euro 5-compliant diesel vehicles. The move came in the same week German regulators fined VW Group premium brand Audi EUR800m for falsifying diesel vehicle emissions tests, prompting Porsche to revise down its full year profit forecast by almost EUR1bn.
VW has offered similar incentives previously in Germany. This latest offer incentivises owners of any make or model of Euro 1 to Euro 4 diesel vehicle to exchange it for a new VW with the trade-in to be scrapped. The so-called 'environmental incentive' ranges between EUR1,500 and EUR8,000, depending on model.
A separate deal is offered for any brand of diesel vehicle in 14 cities classified by the federal government as the most heavily polluted, including their surrounding areas. That incentive – EUR500-EUR7,000 depending on model – will be paid in addition to the trade-in value of the Euro 4 or Euro 5 diesel scrappage vehicle.
VW brand sales chief Juergen Stackmann said in a statement: "The environmental incentives and exchange premiums are powerful financial incentives for switching to the latest generation of cleaner vehicles. Volkswagen is thus making a further significant contribution to improving air quality and preventing possible driving bans in German cities."
The incentive is available until further notice, the automaker said.
According to the fine print, any owner in Germany of a Euro 1 to Euro 4 diesel vehicle can claim an incentive to swap it for a new or nearly-new VW.
Though the plan is largely to get owners out of older, more polluting diesel vehicles and into the latest VW diesel models, owners of older cars in the 14 most heavily polluted cities and surrounding areas can choose their replacement VW with any type of drivetrain, such as petrol, PHEV or full EV.
Buyers scrapping an old diesel for a nearly-new VW can choose any drivetrain with 75% of the incentive for a brand new vehicle applying to nearly-new Golf, e-Golf1, Golf Sportsvan, Golf Variant (estate), Touran, Passat Limousine and Passat Variant models while 50% of the new vehicle incentive applies to all other models.
Owners of any make of Euro 4 or Euro 5 diesel vehicles in the 14 most polluted cities can also use an additional 'exchange premium' paid on top of the trade-in vehicle's value. This is available for both new vehicles and nearly new cars with all types of drivetrain. 75% of the new vehicle incentive applies to nearly-new Golf, e-Golf, Golf Sportsvan, Golf Variant, Touran, Passat Limousine and Passat Variant models while a 50% incentive applies for all other models.
The federal government is helping VW promote this incentive scheme. The Kraftfahrt-Bundesamt (German Federal Motor Authority) will write to registered owners of Euro-1 to Euro-5 diesel vehicles in the 14 cities informing them about the incentives.
VW also will offer its free Deutschland Garantie (Germany Guarantee), introduced on 1 April with the purchase of a new or nearly-new diesel vehicle from an authorised dealer, until the end of 2018. It is valid for three years from the date of purchase and gives customers the option to exchange their vehicle in the event that a driving ban is imposed where they live or work.
Stackmann added: "Volkswagen believes in the diesel. Independent studies indicate that our current models rank among the cleanest on the market when it comes to NOx emissions. Moreover, fuel-efficient diesel engines continue to make an important contribution in the fight against climate change. The diesel swapping programme specifically seeks to reinforce the confidence of German customers in this technology and offer them individual mobility by preventing driving bans."
The automaker noted its first environmental incentive scheme run from August 2017 to June 2018 "successfully demonstrated that systematic fleet renewal is a swift and efficient way of improving air quality". Over 210,000 old diesel vehicles were taken off German roads, scrapped and replaced by modern, cleaner models.
In combination with the software updates for diesel vehicles, nitrogen dioxide emissions have thus been reduced by over 10,000 tonnes per year, the automaker claimed.