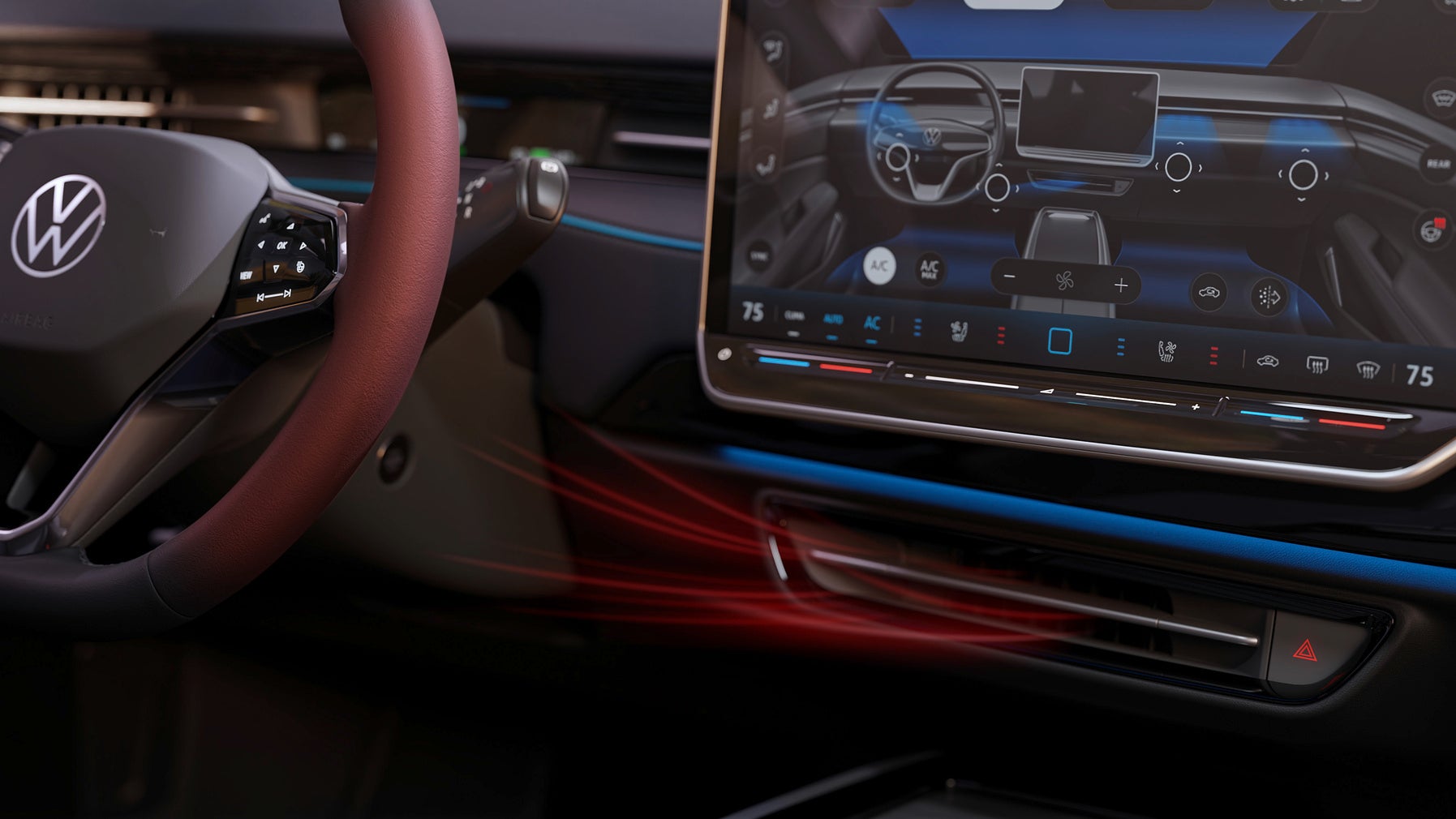 Volkswagen's upcoming ID.7 will have a new air conditioning system that performs faster cooling or heating of the vehicle interior before the start of a journey.
This is made possible by electronically controlled air vents that distribute the air throughout the vehicle interior as soon as the driver approaches with the key. The new, smart automated air conditioning system also reacts to voice commands and takes into account the position of the sun as well as individual user preferences.
The ID.7 can activate the air conditioning before passengers get into the vehicle. The vehicle interior is cooled on hot days and heated when it is cold. If the door is opened in conditions with high outside temperatures, smart air vents in the cockpit distribute the air quickly over a large area by means of dynamic horizontal movements. When the passengers are seated in the car, the air flow can beredirected straight at the body or used for indirect ventilation of the interior space, according to preference.
The climate control function is located on the uppermost operating level of the new 38cm (15 inch) infotainment display and is always visible with fingertip operation. Using the clear air conditioning context menu, all smart air vents can be digitally controlled at the outlets. The strength and direction of air movements can be adjusted intuitively and saved individually. The temperature can be controlled by means of backlit touch sliders.
Steering wheel heating is activated automatically and air also flows specifically to the hands on the steering wheel.
Camouflaged near-production concept vehicle – The vehicle will not be available for sale.
The digitally controlled air conditioning system can be activated by voice control. Special wishes are stored as 'Smart Climates'. A program is selected that activates the steering wheel heating if the command "Hello Volkswagen, my hands are cold" is spoken. This will initiate warm air directed at the hands on the steering wheel for around five minutes.
Individual user preferences are saved as 'Personalisations'. This includes the settings made for the automatic air conditioning system. This is especially practical if the vehicle will be used by multiple drivers..
When the automatic function is activated, the smart system reacts to its climatic surroundings. A windscreen sensor detects the incident angle of the sunlight in conditions with high outside temperatures and high solar intensity. If the sun is shining strongly onto one side of the vehicle, the ID.7 adapts the air conditioning to an even greater extent for the warmer zones: first towards the respective area of the vehicle interior, and then in a second step specifically towards the vehicle occupants.
World premiere of the ID.7 is scheduled for the second quarter of 2023.