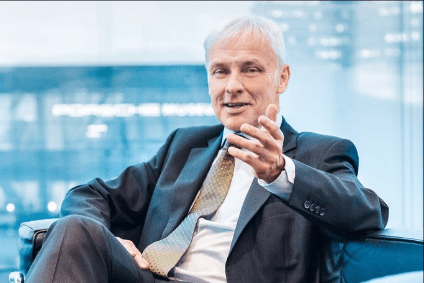 Volkswagen Group pre-tax profit was down 20% at EUR3.2bn in the first quarter of this year as sales revenue dipped amid the ongoing fallout from the 'dieselgate' crisis.
However, the company was able to post a slight increase to operating profit and CEO Matthias Müller said that the company is "satisfied" with the start made to a "challenging year" under difficult conditions.
"In the first quarter, we once again managed to limit the economic effects of the diesel issue and achieve respectable results under difficult conditions," said Müller.
VW also stuck to its forecast for 2016 as a whole. Depending on economic conditions – particularly in South America and Russia – and exchange rate developments as well as against the backdrop of the diesel issue, VW expects 2016 sales revenue for the Volkswagen Group to be down by up to 5% on the prior-year figure.
"2016 will be a transitional year for Volkswagen that will see us fundamentally realign the group," Müller added.
Despite positive mix effects and an increased contribution by the Financial Services Division, VW Group sales revenue was down 3.4% in the first quarter. VW said the decline was primarily attributable to the fall in vehicle unit sales and negative exchange rate effects. Operating profit climbed to EUR3.4bn. First quarter operating profit contained overall positive special items of EUR0.3bn, due to "currency-related adjustments to the provisions recognised in connection with the diesel issue".
Excluding these positive special items, operating profit would have decreased slightly to EUR3.1bn, VW said. The operating return on sales before special items declined to 6.1% (6.3% in same quarter last year).
See also: Volkswagen counts the cost of 'dieselgate' – Analysis