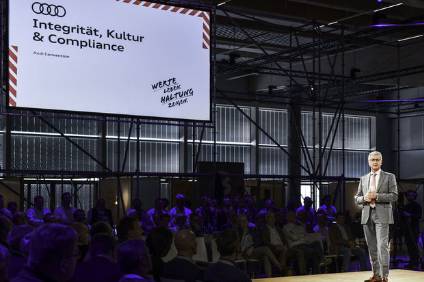 The VW Group is apparently lining up a replacement CEO at its Audi brand, because of uncertainty surrounding the current CEO – Rupert Stadler – who is in pre-trial detention in Germany over allegations surrounding emissions tests cheating. Markus Duesmann has been offered a position on the VW Group board, but the position has not yet been given a job title.
Media reports in Germany say that Duesmann will take over as Audi CEO, but timing is also complicated by his existing contract at BMW where he is responsible for purchasing. Current Audi CEO Rupert Stadler has spent the last month in jail (in Augsburg) over allegations that he tried to tamper with evidence in the VW Group 'dieselgate' scandal. Reports in Germany say that Stadler was arrested after his phone was tapped by the police, creating concerns that he was trying to influence witnesses.
At its meeting this week, the Supervisory Board of Volkswagen decided to offer Markus Duesmann a position on the Group Board of Management. Mr Duesmann, currently Board of Management member for Purchasing and Supplier Network at BMW AG, will take up his new position as 'soon as he is able to do so', VW said. An agreement to this effect has already been signed.
Volkswagen Group says it is welcoming on board one of the automotive industry's most experienced and distinguished experts. He has a wealth of knowledge in different areas of the industry, having served with various companies, VW said in a statement.
Suspended Audi CEO Rupert Stadler is the most senior Volkswagen Group official so far to be taken into custody over the carmaker's emissions test cheating scandal.
See also: VW holds crisis talks after Audi CEO Rupert Stadler arrested