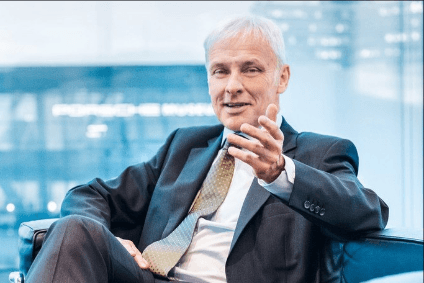 Volkswagen Group says that its CEO Matthias Müller and the Chairman of the Group Works Council Bernd Osterloh, have agreed on the "further procedure for investment and capacity planning".
The company says a series of talks between the Board of Management and the employee representative body will take place over the coming ten days in order to "find a common path for the future of the company".
The talks have added sensitivity now in the context of the crisis the company finds itself in following the eruption of the diesel engines emissions scandal. Some analysts say that it could ultimately cost the VW more than EUR30bn and provoke a need for huge cost savings and possibly the divestment of parts of the business to save the company. Volkswagen is also expected to take a general hit on sales in major markets as a result of the adverse publicity and a recent broadening of the cars affected by recalls and misleading fuel consumption performance.
Following a meeting yesterday, Müller said: "In the present difficult situation we must jointly make decisions that factor in economics just as much as employment. I attach great importance to the views and experience of our works councils. In light of the changed circumstances, we are facing an ambitious task. We will be prioritizing forward-looking products and technologies. Bernd Osterloh and I agree that this is the key factor for reliably safeguarding both the future success of our company and employment."
Osterloh commented: "Matthias Müller will personally take charge of cooperation between the Board of Management and the Works Council. That is a strong signal for the workforce. We will join him on the road to the future because we believe he is a reliable partner. We are seeking shared decisions in the interest of the company, shareholders and employees. The challenges are enormous, but the workforce will stand behind the company as long as we succeed in agreeing on a balanced package of investments, economy measures and forward-looking projects. The discussions between Matthias Müller and myself have laid the foundation for that."