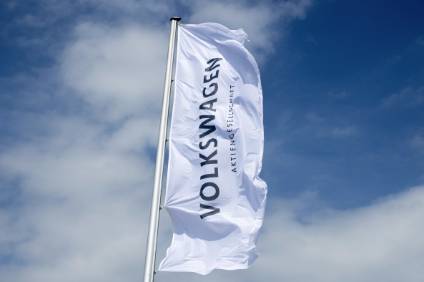 Volkswagen is planning to shed thousands of jobs in Germany through early and partial retirement.
VW said in a statement that its management and the works council have drawn up a set of guidelines specifying additional components for driving forward the group's transformation in the current fiscal year.
The company said the measures agreed will make an important contribution to disciplined cost management, the key drivers being freezing the size of the workforce at the January 2021 level and an extensive retirement package.
It was also decided to open up partial retirement to employees born in 1964 as announced as part of the digital transformation roadmap, to reopen partial retirement for the 1961 and 1962 birth cohorts, and to additionally launch an early retirement program for the 1956 to 1960 birth cohorts.
Volkswagen told Reuters it expected up to 900 workers to opt for early retirement, while a low number in the thousands would choose partial retirement, without giving a precise figure – though it cited sources as saying that up to 4,000 positions would be cut at six German VW plants currently employing around 120,000 people.
Other newspaper reports in Germany have suggested 4,000-5,000 jobs could go under the plan, which could cost VW up to EUR500m.
VW said the freeze of the workforce caps ("level freeze") will go a long way to accelerating the company's internal transformation, as vacant positions are required to be filled internally first. The jumping-off point for the development of the workforce is the number of employees as of January 2021. External new hires are still planned in forward-looking areas such as electrification, digitalization and battery cell development, VW said.
Unoccupied positions will also be evaluated as part of the fixed cost reduction program.
Gunnar Kilian, Chief Human Resources Officer of Volkswagen AG said: "Thanks to our sizable investments in the expansion of electric mobility and digitalization, Volkswagen has carved out a pioneering role for itself as a driver of the automotive transformation. We now intend to consolidate our strong position. Disciplined cost management will continue to be necessary to finance the required investments in the future, to remain competitive and, above all, to make it possible to safeguard jobs in the long run. The measures set out in the guidelines provide the right solution for this. The guiding principles adopted in the Future Pact and the digital transformation roadmap remain binding. This means that we are strengthening the internal transformation of our workforce and creating jobs in forward-looking areas – through training and targeted external recruitment. For this purpose, we are also increasing our training budget by 40 million euros to a total of 200 million euros."
Bernd Osterloh, Chairman of the General Works Council, said: "We are continuing what has proven to work. This especially includes partial retirement, which we rapidly called for to be opened up to the 1964 birth cohort without delay. The finish line is now in sight. For our older colleagues, partial retirement is a good opportunity to enter their well-deserved retirement a bit earlier. The same goes for the other programs aimed at older birth cohorts. What all these measures also clearly show is that the works council is taking pains to ensure that the departures do not impact on the remaining employees. VW is sticking to its tried-and-tested approach: we will recruit new staff where necessary, and there will be no work intensification. What is more, we will continue to build up our business in cutting-edge fields, reinforced by our internal transformation."