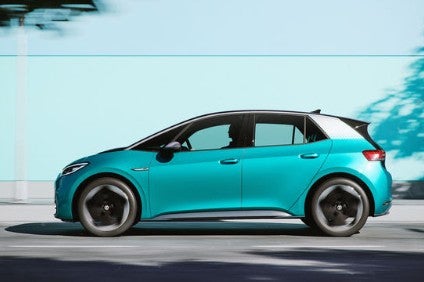 Volkswagen claims its ID.3, on sale in summer 2020 (we better add 'coronavirus permitting' but the automaker is on the record telling Reuters it did not expect supply bottlenecks resulting from that bug to disrupt global production and China sales to return to normal levels by June or July) is "less expensive" than comparable internal combustion models.
"The basic version of the ID.3 will be less expensive in Germany in terms of acquisition and operation than comparable internal combustion models," the automaker said.
"As regards operating expenses alone, ID.3 drivers in Germany will save about EUR840 per year."
"With the ID.3, the electric car will finally become affordable. This model is entirely fit for everyday use and even costs less than an internal combustion model thanks to the environmental bonus," claimed Thomas Ulbrich the top Volkswagen brand executive in charge of E-Mobility.
"The [launch] time schedule will be met," Ulbrich added. "The ID.3 will be introduced to the market in the summer, as announced."
This will be the first updatable VW electric car based on the modular electric drive toolkit (MEB). During production, the latest software will initially be installed. Over subsequent months, digital functions will be updated "regularly".
The objective is to deliver the 30,000 pre-ordered cars of the 'first edition' throughout Europe at almost the same time.
Less expensive than comparable internal combustion models
VW claims its cost of ownership analysis shows that, in terms of acquisition and operation expenses,: an ID.3 is less expensive, depending on the model variant, than a comparable internal combustion engine model. The basic version with a range of 330km costs less than EUR23,430 in Germany, following deduction of the "environmental bonus" [aka government funded electric vehicle subsidy; similar to the reduced GBP3,000 amount now paid here in the UK].
"It is therefore at least as inexpensive as comparable models such as the Golf Life," claims VW.
In addition, ID.3 drivers in Germany save about EUR840 per year on operating expenses. Among other items, there is no road vehicle tax, no oil changes are required and the ID.3 is in a less expensive insurance class (17). Energy costs are also lower.
Silke Bagschick, sales and marketing chief of VW's e-mobility product line, claimed: "The price is no longer an argument against but rather an argument for the electric car. Leasing offers make the changeover easy and reduce uncertainty. In future, the electric car will also be attractively priced even without subsidies."
Kia Motors Europe recently told just-auto it sees making EVs "achieve parity with ICEs" as a big challenge, especially as "[government funded purchase] grants must ease one day". A cost of US$100 per battery kilowatt-hour is needed to achieve parity and that's some way off yet.
The ID.4 will also make its world debut this year. Production of the new VW electric car generation in China will start at the end of the year.