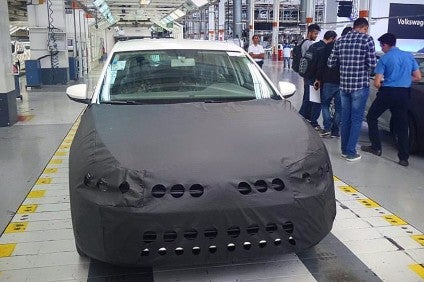 Ahead of its launch of the redesigned Polo (European media launch is on this week), the first of a new, subcompact range to be built in Brazil on the VW group's modular MQB platform, Volkswagen Brazil is undertaking a huge programme of advance promotion.
The fourth-generation Polo was produced in Brazil from 2002 to 2014 but the fifth generation was not built here at the São José dos Pinhais, Paraná state plant.
VW has been inviting journalists to workshops (four so far) to draw attention to the upcoming new car. This reflects an event overseas which included, as here in Brazil, preview drives in disguised cars.
Indeed, even when the car was pictured recently at the end of assembly line in the São Bernardo do Campo, Greater São Paulo plant, the nose and tail were masked.
The reason for the secrecy: the Brazilian version will have minor changes to the front grille and bumpers compared to the German models.
Changes are subtle and were dones at the São Bernardo plant's design office, headed by Brazilian José Carlos Pavone, 39, twin brother of Marcos Pavone, head of the VW brand's global design in Wolfsburg.
The Brazil Polo press launch is scheduled for 25 September and the car is scheduled for showrooms late in October.
The Virtus saloon is planned for mid first quarter 2018, followed by the T-Cross SUV in the second half. The new pickup truck will arrive about six months later. That and the T-Cross will be built at the São José dos Pinhais plant.
There is a fifth model planned but that'll be be built in the VW plant in General Pacheco, Greater Buenos Aires, Argentina.
Volkswagen has not yet announced it officially but website autopapo.com.br said it's a SUV sized between T-Cross and Tiguan currently under development by Škoda. It will be named Tharu and is expected late in 2020.