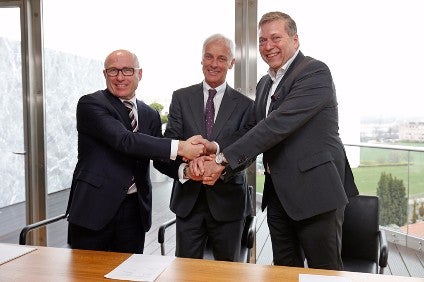 Volkswagen and Jaguar Land Rover owner Tata Motors have confirmed they signed a memorandum of understanding (MoU) to eye cooperation opportunities.
The pending deal was reported earlier in local media in India.
CEOs Matthias Müller of Volkswagen, Bernhard Maier of Škoda Auto and Günther Butschek of Tata Motors signed the document which will see the two automakers study possible long-term strategic cooperation, primarily jointly developing vehicle components and concepts.
Škoda Auto, which pioneered the VW group's foray into India and local assembly, will head the project, beginning with the application of specific market knowledge and local development expertise. In the long term, the group would like to sell more brands and models in India.
"Our aim with the envisaged strategic partnership with Tata Motors is to lay the foundations in the group and the brands that will enable us to offer customer-oriented mobility solutions in the emerging, fast-growing automobile markets, as elsewhere. By offering the appropriate products we intend to achieve sustainable and profitable growth in very different parts of the world. That is why we are systematically pursuing our regional growth strategy", Müller said in a statement.
"We strongly believe that both the companies, by working together, can leverage from each other's strengths to create synergies and develop smart innovative solutions for the Indian and overseas market," said Butschek.
The automakers said they'd not provide any more details until the contractual framework and guidelines for strategic cooperation have been decided.