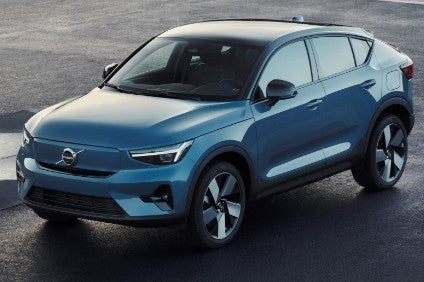 Geely's Volvo Cars is reviving the nameplate used for its first pure EV – the select customers and markets C30 of a decade ago – with the C40 announced today (2 March) at a virtual event hosted at its Swedish headquarters.
The C40 Recharge, "the latest manifestation of [our] commitment to a zero emission future", according to the automaker, appears to be a potential challenge to models at the lower end of Tesla's all-electric range.
The automaker said: "The C40 Recharge has all the benefits of an SUV but with a lower and sleeker design. It is based on the CMA vehicle platform and the first Volvo model in history designed as pure electric only."
Volvo also promised "several additional electric models in coming years".
As announced earlier today ahead of the virtual press conference, Volvo, by 2025, is aiming for half of its global sales to be fully electric cars with the rest [plug-in] hybrids. By 2030, it plans every car it sells to be a BEV.
"The C40 Recharge represents the future of Volvo and shows where we are going," said CTO Henrik Green. "It is fully electric, offered online only with a convenient care package and will be available for quick delivery."
The car has a "striking" rear end design to go with a lower roof line while the front introduces a new 'face' for electric Volvos and includes headlights with pixel technology.
Inside, the new model has the high seating position "that most Volvo drivers prefer" and is available with a range of colour and trim options unique to the model. It is also the first completely leather-free Volvo model.
Like the XC40 Recharge, the C40 Recharge comes with what the automaker claims is one of the best infotainment systems on the market, jointly developed with Google and based on the Android operating system. It provides occupants with apps and services such as Google Maps, Assistant and Play Store, depending on market.
Unlimited data assists connectivity and software updates are over the air.
The powertrain consists of twin electric motors on each axle, powered by a 78kWh battery that can be fast-charged to 80% in about 40 minutes. Anticipated range is around 420km (260 miles) which is expected to improve over time via the OTA software updates.
As also announced earlier today, the C40 Recharge BEV will be sold only online while, in line with its new ambition of reducing complexity in its model range, and focusing on "attractive" set-specification variants, Volvo has "drastically simplified the consumer offering" for its new model.
Buyers will also receive a 'care package' which includes service, warranty and roadside assistance plus offer insurance and home charging [wallbox] options.
The C40 Recharge goes into production next autumn and will be built alongside the XC40 Recharge in Ghent, Belgium.