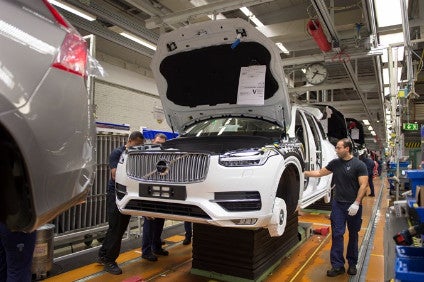 Volvo has decided against using range-extenders with its hybrid models, or using internal combustion engines to charge up batteries on the move because of the increased fuel consumption this causes.
Instead it will go down the all-electric route with a model based on Volvo's SPA architecture which has been fully designed for electrification. According to Lars Lagstrom, from the XC90 T8 project team in Gothenburg, Sweden, this will have a range of up to 500km (312 miles) and will be ready in 2019. He said: "Battery technology is improving all the time and we fully expect to be able to achieve this range within the next few years."
He was speaking at the UK launch of the range-topping XC90 T8 Twin Engine plug-in hybrid which combines a 320hp petrol engine with an 87hp electric motor. It can be powered by the petrol engine, the electric motor or a combination of the two. Despite having a combined 407hp, its CO2 emissions are just 49g/km.
The T8 can be driven for up to 27 miles on electric power alone – enough for most people's daily commute – so Volvo says that on many journeys it will not emit any exhaust pollutants at all. Its 400V lithium-ion battery, which is located between the front seats to improve weight distribution without affecting the amount of space available for passengers, can be fully recharged in as little as two and a half hours using the optional 16-amp fast charge cable. Fully charging via the standard three-pin plug cable takes between three and a half hours (at 10 amps) and six hours (at six amps).
The T8 has seven drive modes: Pure, Hybrid, Power, Save, AWD, Off Road and Individual. Pure mode is designed to reduce fuel consumption and emissions. Working at speeds up to 78mph, it uses the electric power as much as possible. However, because the powerful petrol engine can be called upon at any time, there's never any worry about the car's range.
Hybrid is the default mode. This uses the electric motor (which powers the rear wheels) and the petrol engine (which powers the front wheels) either individually or together to achieve an optimum balance between performance and efficiency. Power mode, as the name suggests, unleashes the combined forces of the petrol engine and electric motor at the same time for maximum performance. Save preserves as much of the battery's charge as possible so you can use it later on in your journey, such as when driving through an urban area. AWD uses a combination of both power sources to improve traction at low speeds on slippery surfaces, but it can have a stabilising effect at higher speeds, too. It can also be suitable for towing, driving on ice or when there is a temporary need for all-wheel drive.
Off Road engages an electronically controlled limited-slip differential function and can help you negotiate tricky terrain at speeds below 25mph. Individual allows a combination of certain settings into one drive mode to suit a preferred driving style and mood.
Weight of the steering can be altered as can the characteristics of the engine, transmission and climate control, as well as the theme in the driver information display.