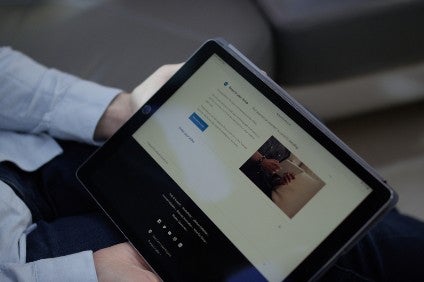 Volvo UK has launched what it says is the most complete online sales service offered by any car manufacturer.
Customers can go through the whole car buying process online taking in vehicle selection, colour, configuration, part exchange on an existing model and a complete choice of finance options – personal contract purchase (PCP), personal contract hire (PCH), a conditional hire purchase agreement or even cash.
The agreement can be finalised via e-signature meaning, in theory, the first time a customer sees their new car is when it is delivered to their home.
That is unlikely to happen, according to Volvo, which is keen that its dealer network is ultimately in control of the transaction.
Nicola Murphy, future sales manager at Volvo Car UK, said fewer than 10% of online buyers in the UK want a home delivery.
"Most people still enjoy the theatre of collecting a new car from a dealership."
Murphy has worked on the online project with finance partners Santander and Volvo Finance Services while developing the online portal with industry specialist Codeweavers.
She added: "With these partners we have developed a bespoke service rather than taking something off the shelf."
Unlike other OEM online services in the UK, the Volvo portal covers all the financial packages.
Murphy added: "Volvo Online is designed with transparency and trust at its heart. Customers can see in real time the impact on their monthly finance while configuring their car, whether changing the colour or option packs.
"The platform will also strengthen the relationship between the customer and their local retailer who will manage the process and help them to choose the right car and finance package for them."
Should the customer wish to trade in a vehicle, Volvo Online will allocate a guaranteed value to the part exchange, even in the event of a long-lead factory time order.
The launch of the services comes as Volvo continues to gain sales momentum in the UK where Q1 volumes rose 39% year on year to 50,000 vehicles while global first quarter retail sales were up 9.4% to 161,320 cars.
Jon Wakefield, Volvo Cars UK managing director said: "Whether online or offline, the way people buy cars has changed. Customers now have much more control over the process and Volvo Online helps them to take that one step further.
Despite the growth in online research and purchase, Wakefield does not see traditional dealers disappearing.
He added: "People still want some sort of physical interaction, to test drive a car or somewhere to get it serviced or repaired.
"But there is no doubt that the role of the network is evolving. Ten years ago we used to call them dealers, they are now retailers and maybe in future they will be brand partners."
John O'Hanlon, chief executive of UK dealer group Waylands Automotive, which operates a number of Volvo outlets, said: "While there are a number of online sites dedicated to buying cars we have been waiting for a big disrupter and Volvo Online is just that.
"Dealers need to change and become more collaborative with the OEM and engage on the customers' terms – by researching and buying online, the customers are taking control.
"Generally dealers are improving all the time in terms of using online tools and social media and the Volvo platform brings dealers and the OEM together."
The UK is now Volvo's biggest European market – having overtaken both Germany and Sweden – while it is the third largest globally behind China and the US.
Volvo Online has been developed and launched in the UK where there is the highest level of online car buying activity in Europe.
Wakefield added, however, that other markets are keen to learn how it progresses.