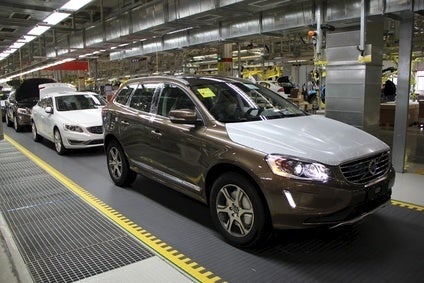 Geely's Volvo Cars sold 581,464 cars in the first 10 months of 2021, up 12.6% year on year.
But October volume fell 22.2% to 50,815 cars due to a shortage of components.
Fully electric or plug-in hybrid Recharge models accounted for 25.5% of sales for the first 10 months of the year. That slice rose to 31.5% in October.
Sales of fully electric models reached just 3.1% of overall sales or 18,261 cars year to date. But the share was 5.6%, 2,841 cars, in October due to a production increase as Ghent output of the C40 began.
US sales rose 23.5% to 104,066 cars in the first 10 months of the year.
YTD sales in China were up 10.5% to 143,616 units but October volume slipped 34.2% to 11,006, due mainly to parts shortages affecting production.
Sales in Europe rose 6.1% to 242,495 units year to date.
Worldwide, the XC60 remained the best selling Volvo model YTD with 177,995 sold versus 149,855 in 2020, followed by the XC40 (170,907/142,159) and the XC90 (89,041/70,195).