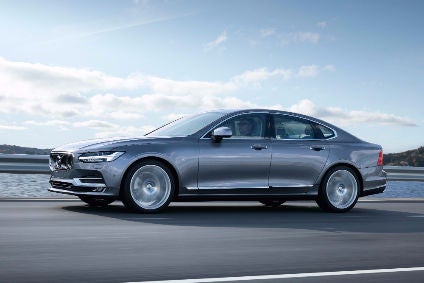 Volvo Cars has shown its new S90, a car it views as Volvo Cars' "entry ticket to the premium sedan club".
The S90 replaces the S80 and is the second car to be based on Volvo's in-house developed SPA (Scalable Product Architecture) engineering platform – the first was the current (second generation) XC90.
The car is equipped with a host of advanced technologies ranging from safety to cloud-based apps and services. The company says the S90 is further proof of the Swedish brand's continuing transformation.
"With the launch of the XC90 we made a clear statement of intent. We are now clearly and firmly in the game. With $11 USD billion of investment over the past five years we have not only reimagined what Volvo Cars can be – we are now delivering on our promise of a resurgent and relevant Volvo Cars brand," said Håkan Samuelsson, President & CEO, Volvo Car Group.
The S90 is the replacement for the S80. It is larger, more expensive (thus the name change) and more adventurously styled. The S90 will have its public debut at the Detroit auto show in January 2016. A long-wheelbase S90L should follow. It is likely to be built only in China but exports to the USA are likely. There, it would be sold as the S90 Inscription.