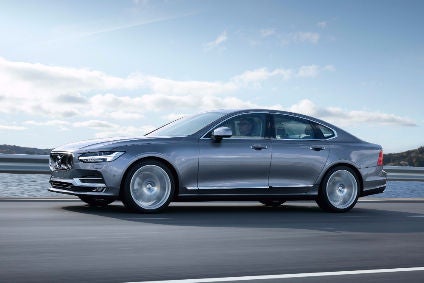 Volvo Cars is aiming to sell 87,000 cars in the US in 2016 and cement its position as a player in high-end segments of the US car market. In 2015, the Geely-owned brand sold over 500,000 units globally for the first time and sees the US as a key market for future growth.
Volvo sales in the US increased 24.3% in 2015 driven by continued strong sales of the XC60 crossover and the new XC90 SUV.
Speaking to just-auto, Anders Robertson of Volvo Cars USA said that growth in 2016 will be boosted by high-end models and the arrival of the S90 flagship, shown in Detroit.
"We did just over 70,000 cars last year. We are very happy with that," he said. "The target for this year is 87,000. We will get the benefit of the first full year of the XC90 plus the start of sales of the S90."
Robertson emphasised the importance of the Scalable Product Architecture (SPA) platform that Volvo has jointly developed with Geely. "The SPA platform has been developed from the ground-up to exactly meet our product development needs. For example, we can incorporate batteries for hybrids in a tunnel in the centre of the car. That means we can still offer a third row of seats, for instance. It is very expensive to develop a brand new platform, but it gives us the capability to develop the characteristics we need and think are right for the Volvo brand."
Robertson also describes a step-up by the brand to take on its German premium competitors. "Safety will always be a major part of what Volvo stands for but we are also on a journey to be more luxurious. This platform delivers the characteristics to enable us to be much more luxurious. In many aspects this takes us ahead of the Germans [premium brands].
"They have been there for a long time but we have been on a journey to get to the level we want to be at. The brand perceptions in the market are what they are, but we think it's a matter of time for brand perception to catch up with the new products that we have. The XC90 has helped up hugely to get to that position and takes us to a different level than we have been at in the past. It has been very well received.
"What we are doing is a Scandinavian interpretation of luxury. In the S90 cabin, we have paid a lot of attention to the interior. It's not too cluttered, nice and clean but high quality of materials, tight finishes, good quality leathers. We want all the touch points to feel right. And there's also the Thor's Hammer headlamps light signature of course…"
See also: Detroit – new Volvo offers semi-autonomous features