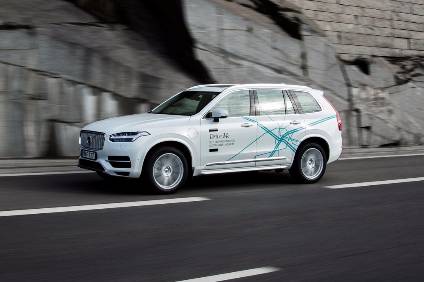 Volvo Cars and Autoliv have announced that they will work with NVIDIA, the AI and visual computing company, to develop advanced systems and software for self-driving cars.
The three companies will work together with Zenuity, a newly formed automotive software development joint venture equally owned by Volvo Cars and Autoliv, to develop next-generation self-driving car technologies.
Volvo Cars says it is committed to having Level 4 autonomous cars for sale by 2021.
As part of the collaboration, Volvo Cars, Autoliv and Zenuity will use NVIDIA's AI car computing platform as the foundation for their own advanced software development.
"This cooperation with NVIDIA places Volvo Cars, Autoliv and Zenuity at the forefront of the fast-moving market to develop next-generation autonomous driving capabilities, and will speed up the development of Volvo's own commercially available autonomous drive cars," said Hakan Samuelsson, president and chief executive of Volvo Cars.
Jensen Huang, chief executive of NVIDIA, said: "Artificial intelligence is the essential tool for solving the incredibly demanding challenge of autonomous driving. We are building on our earlier collaboration with Volvo Cars to create production-ready vehicles that will make driving safer, lead to greener cities and reduce congestion on our roads."
Jan Carlson, chief executive of Autoliv, said: "With NVIDIA, we now have full access to the leading AI computing platform for autonomous driving. Autoliv, Volvo Cars and NVIDIA share the same vision for safe, autonomous driving. This cooperation will further advance our leading ADAS and autonomous driving offerings to the market."
Volvo Cars, Autoliv, Zenuity and NVIDIA will work together to develop systems that can utilise deep learning – a form of artificial intelligence – to recognise objects in their environment, anticipate potential threats and navigate safely.
These systems can compare real-time situational awareness with a known high-definition map, enabling them to plan a safe route and drive precisely along it, adjusting to ever-changing circumstances. They also perform other critical functions such as stitching camera inputs to create a complete surround-view of the car.
Zenuity will provide Volvo Cars with self-driving software. At the same time, Autoliv will also sell this software to third-party OEMs using Autoliv's established and broad sales, marketing and distribution network.