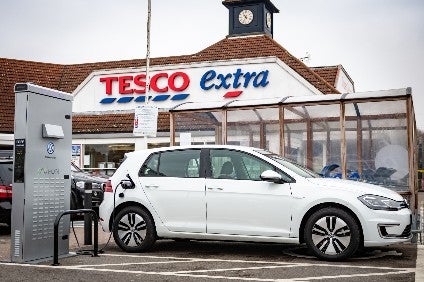 Volkswagen GB and nationwide supermarket chain Tesco claim to be setting up the UK's largest retail electric vehicle (EV) charging network, powered by Pod Point.
They plan around 2,400 EV charging bays at 600 Tesco stores within the next three years.
The chargers will be in Tesco Extra (extra large) and Superstore (standard store) car parks and will be installed by the UK's largest independent public charging network operator, Pod Point.
Supermarket customers – most of whom are restricted to a parking time limit vigorously enforced by private parking companies – will be able to charge electric cars using a standard 7kW fast charger for free or use a rapid 50 kW charger for a "small cost in line with the market rate".
VW GN said the "ambitious initiative" underlines the brand's commitment to becoming a leading player in e-mobility and deliver on its pledge to sell 1m electric cars a year worldwide by 2025.
VW will launch its ID family of all-electric models, based on the group's MEB electric platform, next year, starting with a Golf size hatchback, with MPV and SUV variants to follow.
The company currently sells BEV Golf and Up models in the UK.
Tesco said it wanted "to offer customers and local communities an alternative to fossil fuels, and also play its part in supporting the transition to a low-carbon, clean air UK. This builds on our commitment to 100% renewable electricity made in May 2017."
Geraldine Ingham, head of marketing at Volkswagen UK, said: "This incredibly exciting partnership with Tesco, powered by Pod Point, underlines the scale and ambition of our electric car programme in the UK.
"Working with these partners to provide such an extensive network of EV chargers should leave no one in any doubt about the brand's wholehearted commitment to an electric future."
Jason Tarry, Tesco CEO UK & ROI, said: "This is part of our wider commitment to addressing the environmental challenges that matter most to our customers, colleagues and communities.
"We want to be the leading electric vehicle energy provider and to support our customers with more sustainable solutions. Our EV network provides a sustainable choice for our customers and charging while they shop is another little help to make their lives easier."
Erik Fairbairn, CEO of Pod Point, said: "This agreement represents a 14% increase in the number of public charge bays in the UK and is a monumental day for electric vehicle drivers. It is a massive leap forward for the UK and a significant step in our mission to put a Pod Point everywhere you park."